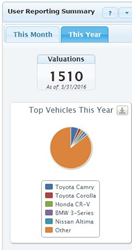 New York, NY (PRWEB) March 31, 2016
Diminished Value of Georgia has named its top vehicles appraised for loss in value in the first quarter of 2016. So far this year, the Toyota Camry had the most accidents of the cars appraised, followed by its smaller sister the Corolla. The top five vehicles appraised for diminished value in Q1 2015 were:
1. Toyota Camry 6.04%
2. Toyota Corolla 2.34%
3. Honda CRV 2.16%
4. BMW 3-Series 1.98%
5. Nissan Altima 1.80%
The list is used by industry professionals to determine which car segments have the most accidents, as well as for other industry-related statistics including insurance quotes and ratings.
Diminished Value of Georgia appraised 1,510 vehicles so far in 2016 for loss-in-value insurance claims.
When a car has been damaged by an accident, its owner is entitled to reimbursement for the loss in value the vehicle sustains. This loss — or diminished value — is often underestimated by insurance companies that use a faulty percentage-based formula that produces values that are much lower than the actual loss amounts.
It is imperative that vehicle owners who have suffered an accident obtain an accurate and credible vehicle appraisal report to serve as proof-of-loss to insurance companies, so they can collect what they are rightfully owed. It's a well-known fact that car buyers will pay more for an undamaged vehicle compared to one that has been in an accident and subsequently repaired.
Car accident victims can regain some of that loss through a diminished value insurance claim.
Diminished Value of Georgia is a licensed automobile appraisal company located in Atlanta, GA and is owned by Tony Rached, a leading car appraisal expert. The business is BBB accredited and A-rated by consumers. DVGA has received the Kudzu award for Best Atlanta Car Appraisal Business for three consecutive years, as well as receiving top ranking in the state of Georgia in the auto appraisal category on Angie's List.
Diminished Value of Georgia offers an interactive website that contains resources to help educate consumers about diminished value, including a diminished value calculator that assists customers in determining how much money they may be entitled to for the loss in value of their vehicles.
The site also offers definitions and instructions on how to file a claim for diminished value. Before ordering an appraisal, customers are encouraged to request a free quote. For more information, contact Diminished Value of Georgia at (678) 404-0455.