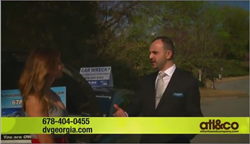 If you want to double check the amounts you're being presented by the insurance company, DVGA offers a no obligation quote!
Atlanta, Georgia (PRWEB) April 30, 2014
On April 29, 2014, Diminished Value of Georgia, Atlanta's leading car appraisal company, was featured on the TrustDale radio program on 640WGST in a segment discussing hail damage and its effects on a vehicle's resale value.
The National Insurance Crime Bureau (NICB) reports that insurance claims resulting from hailstorm damage increased 84 percent in 2012 from their 2010 level. In 2010, there were 467,602 hail damage claims filed. That number increased to 689,267 in 2011 and to 861,597 in 2012—an overall increase of 84 percent from 2010 to 2012.
In the past few months, Georgia has had an increased amount of hailstorms resulting in thousands of damaged vehicles and millions in insurance claim payouts.
On the Radio segment, Diminished Value of Georgia's senior car appraiser, Tony Rached goes on explaining how his company helps accidents victims recover the maximum for their insurance claim.
Diminished Value as explained by Mr. Rached, is the reduction in resale value a vehicle suffers after a repair involving bodywork or paintwork; in essence, car buyers will never pay the same money for a vehicle that's been repainted or that had repaired panels.
Vehicle owners attempting to sell their repaired vehicles are often surprised at the reduction in value they encounter in the marketplace. In Georgia, the loss in value attributed to hail damage is legally owned to policyholders by their insurance carriers.
"To determine Diminished Value, many insurance carriers use a formula called 17c that produces unfair valuation amounts" says Tony Rached, "to challenge an unfair offer insurers are encouraged to hire an independent appraisal company to accurately assess the loss" he adds.
In answering one of Dale Cardwell's questions as to why people should hire Diminished Value of Georgia, Tony Rached states that "If you want to double check the amounts you're being presented by the insurance company, DVGA offers a no obligation quote" adding that "if there's a big discrepancy, we'll give you an appraisal report to submit to the insurance company".
Diminished Value of Georgia is a locally owned auto appraisal company offering a multitude of vehicle valuation services. The company was started in 2007 by Tony Rached and currently processes about 500 Diminished Value appraisals per month with field inspectors covering the entire state of Georgia.
For more information about the car appraisal services offered by Diminished Value of Georgia clients can call 678-404-0455 or visit: http://diminishedvalueofgeorgia.com