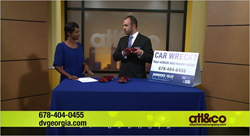 Diminished Value of Georgia helps vehicle owners maximize their loss in value payouts.
Atlanta, Georgia (PRWEB) August 31, 2014
Diminished Value of Georgia, Atlanta's leading car appraisal company was recently reviewed and featured by the Atlanta & Company TV show.
The segment starts with the TV host Rashan Ali introducing Tony Rached, DVGA's senior appraiser. In the interview, Mr. Rached explains what Diminished Value is and how his company can help people with car accidents recover their vehicle's loss in resale value.
What is Diminished Value?
Mr. Rached demonstrates, with miniature Corvette in his hand, that the real vehicle would be worth $60,000 before an accident and $50,000 after its been wrecked and repaired; calculating that the difference, in this case $10,000, is the loss in value that the Corvette's owner is entitled to from the at fault insurance company. In Georgia, he add, vehicle owners can collect the loss in value even against their own policy.
Mr. Rached says that DVGA helps vehicle owners recover their vehicle's loss in value by providing them with a car appraisal report to submit to the insurance carrier for reimbursement. "Our Diminished Value appraisals are industry standard and are recognized by all major insurance companies," he adds.
In the interview, Mr. Rached continues to explain how insurance companies often miscalculate the loss in value the vehicle suffers and that an appraisal is normally needed for vehicle owner to be accurately compensated for their loss. In addition, DVGA offers a full vehicle inspection and repair quality checkup, so vehicle owners picking up their vehicles from body shops don't have to worry about improper repairs.
Mr. Rached concludes the interview by outlining why vehicle owners should hire his company to provide them with appraisal reports, DVGA he adds is "Better Business Bureau accredited and is licensed". The appraisal company offers appraisals throughout the state of Georgia and employs a dozen certified vehicle inspectors that will execute an in-depth report within 24 hours of being hired.
For more information about Diminished Value of Georgia or to watch the interview please visit Diminished Value of Georgia's website of call 678-404-0455