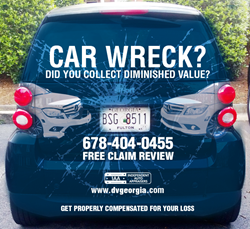 Most car shoppers will ask for a vehicle history report.
Atlanta, Georgia (PRWEB) December 31, 2013
Starting January 1st 2014, car appraisals offered by Diminished Value of Georgia will come with an Autocheck vehicle history report at no additional cost.
What is Diminished Value? By definition, Diminished Value is the loss in resale value a vehicle suffers after an accident. Car buyers will never pay the same money for a vehicle that's been wrecked and repaired as an undamaged counterpart.
What are history reports? History reports are documents that contain information about a vehicle's past, in other words, a background check for automobiles. This information is very important for consumers trying to purchase a vehicle.
The top two vehicle history reporting companies in the US are Carfax and Autocheck. The cost of a vehicle history report varies between providers but is generally between $30 and $40. Most car shoppers will inquire as to the vehicle's history specifically the existence of previous accidents before making an offer to purchase.
"Since our report quantifies the loss in resale value, it only makes sense for us to include a history report with it" says Tony Rached, Car appraiser at DVGA. "We want our clients to put the accident in perspective and to look at the vehicle from the buyer's vantage point" Mr. Rached adds.
There will be no increase in the cost of appraisals offered by Diminished Value of Georgia, prices will remain $150 for desk appraisals and $275 for field appraisals anywhere in the Atlanta metro area.
Diminished Value of Georgia is a licensed car appraisal company specializing in vehicle valuation reports quantifying the loss in resale value automobiles suffer after an accident. In 2013 Diminished Value of Georgia appraised about 3,800 vehicles most of which had a clean record.
For more information about the car appraisal services offered by Diminished Value of Georgia, please call TonyRached at 678-404-0455.