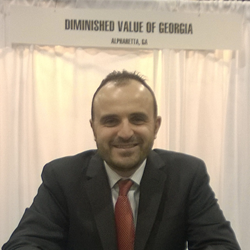 Diminished Value of Georgia is Atlanta's leading car appraisal company.
Atlanta, Georgia (PRWEB) November 26, 2014
Diminished Value of Georgia has released its annual list of the top vehicles appraised for loss in value in 2014. This year, the Nissan Altima had the most accidents of the cars appraised, followed by the Honda Accord.
The list is used by industry professionals to gauge which car owners have the most accidents as well as other industry-related statistics. Diminished Value of Georgia appraised 3,773 vehicles so far in 2014 for loss-in-value insurance claims. The top five vehicles appraised for diminished value were:
1. Nissan Altima
2. Honda Accord
3. Toyota Camry
4. BMW 3-Series
5. Honda Odyssey
When a car has been damaged by an accident or incident (such as fire or flood), its owner is entitled to reimbursement for the loss in value the vehicle incurs.
This loss—or diminished value—is often underestimated by insurance companies that use a faulty percentage-based formula called 17c which yields values that are much lower than the actual loss amounts. It is critical that automobile owners who have suffered an accident order an accurate and credible auto appraisal report to serve as proof-of-loss to insurance companies, enabling them to collect what they are rightfully owed.
It's a well-known fact that consumers will pay more for an undamaged vehicle compared to one that has been in an accident and subsequently repaired. Car accident victims can regain some of that loss through a diminished value insurance claim.
Diminished Value of Georgia is a licensed auto appraisal company, performing 300-400 car appraisals a month. It is BBB accredited and A-rated by consumers, a rating that is rare in the automotive world. Before ordering an appraisal, customers are encouraged to request a free quote.
To receive more information, including instructions on how to file a claim for diminished value, as well as a diminished value calculator, please visit Diminished Value of Georgia online or call 678-404-0455.