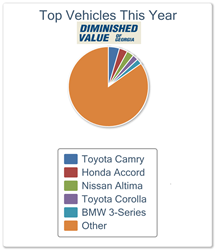 The Car that had the most accidents was a 2010 Toyota Camry.
Atlanta, GA (PRWEB) November 30, 2013
Diminished Value of Georgia, Atlanta's leading car appraisal company is releasing its first ever list of the top vehicles appraised for loss in value.
What is Diminished Value? Loss in value, otherwise known as Diminished Value, is the reduction in resale value a vehicle suffers after being repaired from an accident or collision. Auto buyers will not pay the same amount for wrecked and repaired vehicle as they would for an undamaged counterpart.
Why the list? This list shows the top vehicle appraised for diminished value after a car accident. This list is to be used by industry professionals when gauging which car owners have the most accidents as well as other industry related statistics.
Diminished Value of Georgia appraised 3,491 vehicles year-to-date for loss in value claims. The top five vehicles appraised were:
1- Toyota Camry (2012 model year)
2- Honda Accord (2009 model year)
3- Nissan Altima (2010 model year)
4- Toyota Corolla (2011 model year)
5- BMW 3-Series (2010 model year)
More stats:
1- Out of the 3,491 vehicles appraised, 2,470 (70%) were third party claims.
2- The top vehicle appraised on a first party claim (the driver's fault) was the Nissan Rogue (missed our top 5 by a 2% margin)
3- The average loss in value assessed on the top 5 vehicles was $2,750
4- The most expensive vehicle we appraised in 2013 was a $249,379 2014 Ferrari 458 Italia
5- The average cost of repair for the top 5 vehicles was $7,300
6- 3 out of 5 vehicles appraised had structural damage
7- 1 out of 5 vehicles appraised had airbag deployment
8- 1 out of 5 vehicles had a previous accident
9- 3 out of 5 vehicles were rear-ended
10- 4 out of 5 vehicle owners were satisfied with the repair quality
11- The top search term used to find our website was "diminished value calculator"
12- The average time a vehicle was in the repair shop for a collision was 18 days
If you have any questions about our 2013 list please contact Tony Rached at 678-404-0455 or visit the Diminished Value of Georgia website.