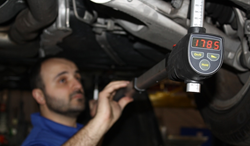 The cost of a TrueFrame report is $245. It is currently available through Diminished Value of Georgia's inspection station in Alpharetta.
Atlanta, GA (PRWEB) May 31, 2014
Diminished Value of Georgia, an Atlanta car appraisal company is now offering frame inspections on vehicles with prior accident records.
What is the TrueFrame inspection process?
The TrueFrame inspection identifies good vehicles with a bad vehicle history report by answering these questions:
1- Was the vehicle in a serious accident?
2- What work was done to the vehicle as a result of the accident?
3- Is there existing cosmetic damage to the vehicle?
4- Does the vehicle meet TrueFrame's Structural Standards?
TrueFrame Reports are designed to restore the value of wrecked and repaired vehicles as well as increasing buyer confidence.
What does TrueFrame of Georgia look for in a vehicle?
Unlike other vehicle inspections, a TrueFrame inspection focuses on structural integrity. It starts with frame or unibody measurements taken with digital precision and includes a visual inspection of the vehicle's structural components. A TrueFrame Report also identifies where the vehicle was impacted in the prior accident and provides a cosmetic analysis of the vehicle's exterior.
What is a TrueFrame Report?
All TrueFrame inspections involve a structural review of the vehicle, vehicles that meet the TrueFrame Structural Standards are eligible to receive a TrueFrame Report. TrueFrame Reports include a cosmetic body score (32 to 100) along with an indication that the vehicle meets the TrueFrame structural standards. Vehicles that possess a TrueFrame report can be then sold as Trueframe Certified.
Where does this information go?
A TrueFrame report helps take the guesswork out of those accident reports by identifying vehicles that are structurally sound, despite the prior accident history. TrueFrame's reports are easily accessible through the TrueFrame website and also appear on the Carfax vehicle history report.
What does the TrueFrame Report Cost?
The cost of a TrueFrame report is $245. It is currently available through Diminished Value of Georgia's inspection station in Alpharetta.
Is there a guarantee associated with TrueFrame?
If a vehicle meets TrueFrame's Structural Standards and qualifies to receive a TrueFrame Report, and the frame/unibody measurements included in the TrueFrame report are incorrect by more than 5 millimeters on any one measurement, TrueFrame will provide a refund of your purchase price of the vehicle (not to exceed 100% of the current NADA clean retail value).
"Buyers will always pick a vehicle that was involved in an accident but TrueFrame certified over one with a prior accident and unknown damage," says Tony Rached, Managing Partner at TrueFrame of Georgia. "Trueframe is a great asset to dealers and consumers alike," he adds.
For more information about TrueFrame and Diminished Value of Georgia please call Tony Rached at 678-404-0455