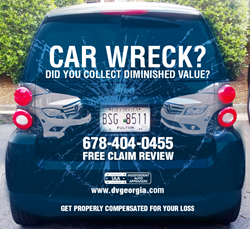 TrustDale carefully selects each business utilizing Dale's unique 7-Point Investigative Process.
Atlanta, GA (PRWEB) January 28, 2014
Diminished Value of Georgia is a car appraisal company specializing in insurance claims for Diminished Value and Total Loss.
Consumer Investigative Reporter and CEO, Dale Cardwell, of TrustDale, announced today the selection of Diminished Value of Georgia as the newest recommended provider for car appraisals in Atlanta. This announcement marks Diminished Value of Georgia official status as TrustDale Certified.
"At TrustDale we empower consumers with researched solutions for their toughest buying decisions," said Dale. "I'm very pleased to welcome Diminished Value if Georgia to our elite group of certified and recommended businesses. Consumers can place their confidence in them as one of Atlanta's best."
The TrustDale Certification process requires prospective businesses to pass Dale's stringent 7-point investigative review of reputation, price, quality, and customer service. After completing this objective vetting process, the business is approved to join a select group recommended to consumers through the online business referral source, TrustDale.com.
Diminished Value of Georgia successfully passed their recent review and completed the certification process. The final step was acceptance of the TrustDale Make It Right Guarantee. The guarantee demonstrates Diminished Value of Georgia commitment to practicing the highest standards of customer service.
Diminished Value of Georgia was established in 2007. The company provides accurate vehicle valuation reports and car appraisal services. Diminished Value of Georgia is located in Alpharetta, Atlanta's northern suburb. Services are provided to customers throughout the entire state of Georgia. More information on Diminished Value of Georgia can be found at http://www.TrustDale.com.
For more information about the car appraisal services offered by Diminished Value of Georgia please visit the Why Choose Diminished Value of Georgia? webpage.