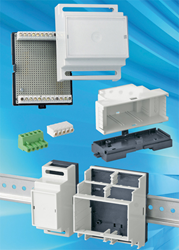 The 3 module size is a popular one so we were very keen to add it to the range.
Fareham, Hampshire (PRWEB UK) 21 May 2014
OKW has added a new 3 module (52.5 x 86 x 58 mm) size to its RAILTEC-B range of DIN rail enclosures.
It extends the range to six sizes from 2 modules (35 x 86 x 58 mm) to 12 modules (210 x 90 x 58 mm).
RAILTEC-B enclosures are highly versatile. Applications include machine-building, automation and electrical control equipment (notably lighting controllers).
Six versions of RAILTEC-B are available (Versions I-V are available in standard or ventilated form):

Version I – for 5.0/5.08 pitch terminal blocks (two rows), maximum number of terminals per case 10 to 64 (2-12 modules)
Version II – for plug headers (5.0/5.08, two rows)
Version III – closed case, which can be machined for the installation of special connections
Version IV – for 5.0/5.08 mm terminal blocks, maximum number of terminals (bottom row only) per case 5 to 32 (2-12 modules)
Version V – with knockout perforations for terminal blocks or two plug headers
Version VI – open case for fitting various permutations of partition plates and terminal guards.
OKW Sales and Marketing Director Robert Cox said: "The 3 module size is a popular one so we were very keen to add it to the range."
Accessories for the RAILTEC-B range include six sizes of transparent lid (UL 94 V-0) from 2 to 12 modules plus two-piece mounting brackets and PCB screws.
There is a whole range of accessories for Version VI open cases including partition plates, terminal guards (closed, ventilated, block 5.0, perforated) and front panels (Light Grey PC, Transparent Red PC).
Also, RAILTEC-B DIN rail boxes that share common power and data connections can be linked in the same cabinet using RAILTEC-BUS.
The RAILTEC-BUS system can handle maximum currents of 5A and voltages up to 63V.
Components comprise the polyamide BUS support rail (available in two lengths, 250 mm or 500 mm); a PCB BUS rail with five copper tracks; an insulating rail cover and two end caps (left and right handed).
Inside each DIN rail box is a PA connection block with five gold-plated spring contacts and location pips for the PCB.
All the RAILTEC-BUS components can be ordered separately for maximum flexibility and cost effectiveness.
Features of RAILTEC-B DIN rail enclosures:

Fast locking to DIN rails (DIN EN 50 022 TH35 x 7.5 mm)
Six sizes (DIN 43800-1)
Fully insulated and protected (VBG4 and IEC 529/DIN VDE 0470-1)
Internal mounting points for PCBs
With or without ventilation slots
Materials – base PPO (UL 94 V-0), top PC (UL 94 V-1)
Colours – base Black (RAL 9005), top Light Grey (RAL 7035).
As well as RAILTEC-B, OKW also offers the RAILTEC-C range which can be fitted to G32 and TH15 rails by specifying a special adaptor.
RAILTEC-C includes versions that are open on one or both sides. There are also the CM modular enclosure sections (both 18 mm wide) that can be clipped together to create the desired size.
OKW's other DIN rail housings are the ROBUST-BOX and TOPTEC ranges plus RAILTEC SUPPORT open PCB holders in extruded or modular formats.
For more information about OKW DIN rail enclosures, view OKW's website or contact Sales and Marketing Director Robert Cox, +44 (0)1489 583858.
-Ends-
Notes For Editors
OKW ENCLOSURES LTD
15 Brunel Way
Segensworth East
Fareham
PO15 5TX
Tel: +44 (0)1489 583858
Fax: +44 (0)1489 583836