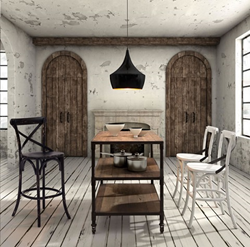 The renewed popularity of cross back dining chairs is part of a larger old-is-new mentality in home design.
(PRWEB) October 03, 2013
HomeThangs.com – the Online Home Improvement Store has made their goal to deliver the right product to the consumer. With that in mind, shopping and home design tips, as well as special product selections are being introduced.
For a long time now, the design world has been putting a lot of focus on the kitchen – specifically, large kitchens and kitchen islands. But after a few years of neglect, formal dining areas are starting to get attention again. Many old fashioned designs are coming back in vogue, and cross back dining chairs are at the front of the pack. HomeThangs.com has introduced a guide to using these simple, slightly rustic chairs to add a homey touch to a dining room.
The renewed popularity of cross back dining chairs is part of a larger old-is-new mentality in home design. Along with other antiques, many retro dining chairs are starting to show up in all walks of design. From reclaimed and restored factory style seating to sleek, shapely polished wood chairs that hearken back to the 50s and 60s, many iconic chairs are seeing new life as statement pieces in contemporary dining rooms. That said, cross backed chairs are among the most popular right now, in no small part because their simple rustic appearance allows them to pair well with a wide variety of styles.
"Cross back chair" isn't exactly a precise description – many, many dining chairs have X shaped back supports, but the ones in vogue these days have a very distinct appearance. Rather than a solid wood crisscrossing the back at perfect 90 degree angles, these dining chairs have two reedy, slightly more flexible pieces that are visibly affixed to the back and seat of the chair.
The effect is slightly uneven, with cross bars that overlap the edges of the chair and aren't quite so pristinely finished. The nails or bolts that hold them in place can clearly be seen, and give the chairs a rustic, hand-crafted appearance. Combined with weather worn wood or aged painted finishes, the kind of cross back dining chairs that are particularly popular now don't just look retro, they look intentionally old.
That said, while the chairs have a hand-hewn quality to them, the banded cross backs are actually quite comfortable. The curving cross pieces at the back of the chair bend and curve where they meet the seat of the chair, creating a sort of person-shaped hourglass that curves the chair to the contours of the body. Unlike more modern chairs, these have no rigid angles, and are designed for practical comfort.
This blend of old and new has several different labels – shabby chic or reclaimed industrial being just a few. But while these specific styles are popular, they're also quite distinct, and cross backed chairs can be used with a much wider array of styles. Homeowners and designers alike are pushing back against the stark, straight lines of a modern decor and opting for a softer contemporary look, and the curved edges, natural materials, and antique quality of cross backed chairs are all ideally suited to creating a more casual, homier style.
Cross back chairs also pair spectacularly well with nailhead and other upholstered dining chairs. Placing one or two upholstered chairs at the ends of a dining table with several cross backed chairs along the sides gives the whole setup a more upscale appearance. Especially with very weathered wood chairs, a high quality upholstery can make the wear and tear feel antique rather than run down. The textural contrast between rough wood and smooth cloth only enhances this homey yet classy contemporary vibe.
To see more of these chairs in action, check out the full article here.
HomeThangs.com is not only a home improvement superstore, it also provides expert design tips and a comprehensive shopping guide, taking the ideas from professional interior designers, and offering tips to the consumers on how to pick the products to best suit their needs.