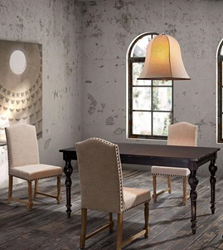 Using lighter wood and fabric not only makes a room look brighter, but also introduces a relaxing, natural element that meshes with the prevailing "green" mentality in home design.
(PRWEB) October 01, 2013
HomeThangs.com – the Online Home Improvement Store has made their goal to deliver the right product to the consumer. With that in mind, shopping and home design tips as well as special product selections are being introduced.
Increasingly, homeowners are looking for a style that's sleek, simple, and relaxed, but also elegant and sophisticated – something that's neither modern nor traditional, but somewhere in between. A great example of this shift is the rising popularity of reclaimed dining tables and nailhead upholstered dining chairs. These elegant dining sets are a great example, combining some of the best elements of both worlds, and HomeThangs.com has introduced a guide on a few features to look for.
Looking at many of the popular dining sets these days, it's easy to say this trend is a very traditional one. After all, these high backed, upholstered dining chairs certainly aren't the glossy, sleek, plastic pieces found in a modern dining room. In fact, quite the opposite – they're clearly based on old world styles, from the decorative wood legs to the shapely backs, tufted buttons, and nailed upholstery.
But these chairs would also look out of place in a highly traditional setting, too. The Victorian era (which spawned many of the designs now considered "antique") put a strong emphasis on ornamentation and luxury. Victorian design was full of rich, plush, colorful fabrics in vibrant and intricate patterns, ornate hand carved details, very expensive wood and stone, and elaborate decorations - all things that definitely do not mesh well with a contemporary style.
Instead, gem toned silk and velvet are replaced by simple, earthy canvas in light neutral off-whites, beiges, and grays. Ornately carved legs are replaced with simple woodwork or even more streamlined modern legs. And dark exotic woods like mahogany or cherry are replaced by simple, weather-worn wood in lighter (sometimes naturally aged) colors.
The lighter color scheme is no accident, either. Modern and traditional design both tend toward darker colors – "espresso" or mahogany, dark grays or gem tones – but especially with modern design, the dark/industrial palette can start to feel pretty oppressive and cold. Using lighter wood and fabric not only makes a room look brighter, but also introduces a relaxing, natural element that meshes with the prevailing "green" mentality in home design.
On the more traditional end of the spectrum, this dining set pairing is a perfect match for the growing popularity of an eclectic, reclaimed or "found" look. This includes both shabby chic and an updated farmhouse/industrial style, and puts an emphasis on the old in old is new. Look for weathered wood and distressed paint finishes (especially in black and white), and pair the dining set with found objects, like old black and white tin signs or other wall art, or simple framed items, especially book pages, old photos, or handwritten letters on aged paper. Together, they create a cozy sense of history that matches well with a relaxed, casual, contemporary home.
This style can also swing the opposite way: to being a little bit more chic and modern. Ironically, one of the best ways to pull this off is actually opt for slightly more antique chairs, but pair them with a highly modern table. Look for chairs in a solid color – black has an especially sophisticated, formal look – and pair them with a table in a more modern material, like glass, chrome, leather, or black lacquered wood. The sharp contrast in styles elevates both, giving them a posh, sophisticated look.
To see some of these ideas in action, check out the full article here.
HomeThangs.com is not only a home improvement superstore, it also provides expert design tips and a comprehensive shopping guide, taking the ideas from professional interior designers, and offering tips to the consumers on how to pick the products to best suit their needs.