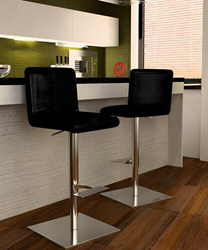 Separate formal dining rooms with a large table and cushy, upholstered dining chairs have made huge gains in popularity recently.
(PRWEB) November 04, 2013
HomeThangs.com – the Online Home Improvement Store has made their goal to deliver the right product to the consumer. With that in mind, shopping and home design tips, as well as special product selections are being introduced.
Kitchen islands have been one of the hottest features in kitchen design for years now Lately, though, some homeowners have been bucking the trend in favor of a few more traditional options, like a kitchen table, breakfast nook or banquette, or formal dining table. HomeThangs.com has introduced a guide to some of the most popular seating options, as well as the advantages and drawbacks of each.
Kitchen islands have been embraced so wholeheartedly in no small part because of their versatility. They can be custom designed in a variety of ways to include (or not) a variety of features. But as the kitchen has become the gathering hub of the home, many families are finding that heavily equipped kitchen islands don't always leave a lot of room for things like schoolwork. And while islands allow guests to interact with the cook while a meal is being prepared, the bar-style seating doesn't provide the face-to-face experience that many prefer for family gatherings.
Reverting back to the classic kitchen table is one option that's regaining popularity. This is somewhat surprising, because ordinary kitchen tables lack many of the features of kitchen islands. The key difference is that they can comfortably seat about twice as many people, allowing a larger family to eat together at the same time, seated face to face. And because kitchen tables aren't really needed for food preparation the way kitchen islands are, they offer more free space for kids to do homework or art projects, staying in the same room with the family without getting underfoot.
The humble built-in breakfast nook or 50s style banquette is also making a comeback. Styled after restaurant booths and often built adjacent to a window, breakfast nooks offer the perfect amount of space for a small family to dine casually and great warm morning and afternoon sunlight. By design, nooks are tucked away out of the way of the preparation area, which means they aren't great for prep, but they're great spot for kids to work after school while dinner is being made.
Perhaps the most surprising shift is the recent revival of the formal dining room. Since the kitchen island has more or less taken over the role of the conventional kitchen table, full dining sets fell somewhat out of vogue. But separate formal dining rooms with a large table and cushy, upholstered dining chairs have made huge gains in popularity recently. This setup doesn't have the same intimacy and accessibility of dining in the kitchen, but it can often seat quite a few more people (especially with a table that extends and a few spare dining chairs), making it a superior option for those who frequently entertain large groups.
For tips on choosing one or more of these options to match a particular space, check out the full article here.
HomeThangs.com is not only a home improvement superstore, it also provides expert design tips and a comprehensive shopping guide, taking the ideas from professional interior designers, and offering tips to the consumers on how to pick the products to best suit their needs.