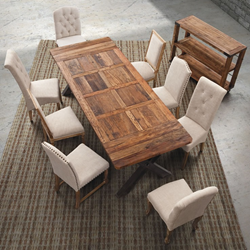 Using classic high-backed, upholstered dining chairs done in a simple fabric offer a look that's both classic and sophisticated, but still casual enough for a contemporary setting.
(PRWEB) May 14, 2014
HomeThangs.com – the Online Home Improvement Store – has made their goal to deliver the right product to the consumer. With that in mind, shopping and home design tips, as well as special product selections, are being introduced.
Over the past few years, the formal dining room has sort of fallen by the wayside as homeowners opt instead for bigger, more open and more integrated kitchens. But the maligned formal dining room is starting to make a comeback as homeowners seek to fill the gap that these kitchens leave: a place for larger, more formal gatherings. The difference is a slim but important one, and HomeThangs.com has introduced a guide to one of the most crucial features of a very formal dining room: the dining chairs.
The biggest difference between a kitchen table and a dining room set – besides, of course, the size of the table – is the size of the chairs that go with it. Kitchen chairs tend to be small and made of wood, but formal dining chairs need to be bigger and more grand, with high backs and – at the very least – padded seats. Both the size and the upholstery give dining chairs a much more formal look and feel, and many homeowners are turning to fully upholstered chairs to play up this more traditional aspect. Even very simple high backed upholstered chairs will do, but look for chairs done in a very simple fabric in a neutral color, like canvas, for a more contemporary look.
Using a lighter, more neutral fabric rather than a rich brocade or leather gives these traditional chairs the right feel for a contemporary home, but other traditional details can help play up their formal, sophisticated look without making them look dated. Nailhead upholstered chairs have become particularly popular lately, especially in tandem with an industrial style decor, as they have some of that hand-hewn, turn of the century quality that really defines the style.
Dining chairs with tufted backs also have a lovely, classic appeal, and are starting to become more commonly available. To enhance the look even more, look for chairs that have antique style tooled legs. Combined with a light neutral fabric, these features will make for a chair that's both sophisticated looking and very comfortable without looking old fashioned.
Another option that's both simple and elegant is to simply cover dining chairs with slipcovers. These fitted fabric sheaths ensconce the chair entirely, fitting snugly around the back and seat and forming a little skirt around the legs. This is a great way to cover up and conceal existing chairs and takes away the frustration of trying to match the woodwork on the chairs to that of the dining table. The only real embellishments on these slipcovers are the ties on the back that secure them in place, but the sweeping folds of material give the whole chair an impressively elegant and formal appearance.
There are a whole host of antique styled chairs out there that will work beautifully, too, with different shaped backs and differently tooled or styled legs or even arms that add visual interest to the chairs and, by extension, to the room. These tend to be a bit shorter than very high backed chairs by virtue of the shaped backs, but are a good choice for putting along the sides of the table, especially with a larger, more assertive chair at either end. The sheer variety of these smaller chairs also makes them great for mixing and matching, which makes for a more eclectic mix of dining room furniture that feels a bit less stuffy than a perfectly matched set. For an even more casual look, mix in a few midcentury modern dining chairs, just make sure to keep to very large, very formal chairs at either end of the table to anchor the traditional look and feel of the space.
HomeThangs.com is not only a home improvement superstore, it also provides expert design tips and a comprehensive shopping guide, taking the ideas from professional interior designers, and offering tips to the consumers on how to pick the products to best suit their needs.