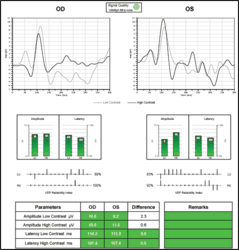 The Diopsys® NOVA system gives us the same sophisticated level of results that old devices do, but with easy to follow protocols and easier to interpret reports.
Pine Brook, NJ (PRWEB) May 29, 2014
Electrophysiology is being adopted by optometrists and ophthalmologists like never before. Diopsys, Inc., the leader in providing VEP/ERG vision testing devices, has just trained its 1,000th customer on the procedures and patient benefits of the Diopsys® NOVA Vision Testing System.
Electrophysiological tests, such as visual evoked potential (VEP) and electroretinography (ERG), have largely been relegated to hospitals and research facilities due to their complex procedures and difficult to interpret results. Diopsys has simplified the use of VEP and ERG technology by creating a device with an easy-to-use intuitive interface, standardized testing procedures and easy-to-read reports. These advances allow the office-based eye care specialist to gain objective, functional information about the vision system that was often too difficult to obtain in the past.
"Diopsys has developed a VEP and ERG device that far surpasses those most eye doctors are familiar with from school. The Diopsys® NOVA system gives us the same sophisticated level of results that old devices do, but with easy to follow protocols and easier to interpret reports," says Dr. Peter Kehoe, former President of the American Optometric Association.
Diopsys also offers a comprehensive training and education process for practices to make sure the doctors and staff have a good understanding of the science, technology and testing procedures for maximum clinical utility. This level of education has contributed to the high level of acceptance by eye care specialists. Mark Latina, M.D., Reading Massachusetts says, "Adding the Diopsys® NOVA Vision Testing System to my practice has added a new dimension to evaluating my patients with glaucoma and other optic neuropathies. The Diopsys unit has helped me with the early detection of glaucoma and provides an objective measure of ganglion cell function which I am using to guide the management of my patients. Overall, The Diopsys® NOVA Vision system has proved to be a significant practice builder and has added valuable clinical information to my medical decision making."
Optometrists and ophthalmologists and their patients are benefiting from technologies like VEP and ERG going main stream. These doctors are gaining the ability to objectively measure the function of the vision system, not just how the anatomy looks. Electrophysiological tests are being used for a variety of applications that involve vision disorders such as glaucoma, amblyopia, multiple sclerosis, and diabetic retinopathy.
About Diopsys
Diopsys, Inc. (http://www.diopsys.com) is a medical instrumentation company dedicated to delivering high-quality, cost-effective preventative health care solutions. The company specializes in the development and marketing of patient-friendly, non-invasive vision testing equipment utilizing electrophysiology, including Visual Evoked Potential and pattern Electroretinography.
Diopsys has developed and markets the patented Diopsys® NOVA-VEP and Diopsys® NOVA-ERG Vision Testing Systems utilized by optometrists and ophthalmologists to help in the detection, diagnosis and treatment of vision disorders, including glaucoma and macular degeneration. Diopsys also provides the Enfant® Pediatric VEP Vision Testing System, a device used in testing for visual deficits, including amblyopia, in children as young as six months of age.