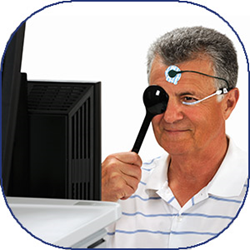 Findings from this important study linking frontotemporal dementia to loss of cells in the retina gives the science of ophthalmology great hope for future developments in technology
Pine Brook, NJ (PRWEB) October 10, 2014
Research scientists from the University of Alabama, Birmingham (UAB), Gladstone Institutes and University of California, San Francisco published findings in the Journal of Experimental Medicine stating there is a direct correlation with functional cell loss in the retina and signs of dementia in people with a genetic risk for frontotemporal dementia (FTD). The study shows that changes in the retina occur much earlier than changes appear in the patient's behavior.
Dr. Li Gan, Ph.D., lead investigator at Gladstone Institutes said: "Retinal degeneration was detectable in mutation carriers prior to the onset of cognitive symptoms, establishing retinal thinning as one of the earliest observable signs of familial FTD. This means that retinal thinning could be an easily measured outcome for clinical trials."
The researchers used an electroretinogram (ERG) as the measuring device in their subjects. ERG is effectively an EKG for the eye which measures the electrical signal activity of ganglion cells, a type of neuron located near the inner surface of the retina. Ganglion cells transmit image-forming and non-image forming visual information to the brain. The researchers compared ganglion cell activity in healthy subjects with subjects known to have frontotemporal dementia, noting a significant decrease in cell activity in the retina of subjects with dementia.
"The results of this study show that we can use the thinning of retinal cells as a marker for this type of dementia," said Eric Robertson. M.D., Ph.D., Associate Professor at UAB, Department of Vison Sciences. "Further studies may also help determine whether the changes in the retina can be utilized as a marker of disease progression."
The International Society for Clinical Electrophysiology of Vision states that pattern ERG has clinical value in both neurological and ophthalmological practices. Historically, ERG testing has been university-based, time-intensive (taking an hour to complete) and uncomfortable for patients. Recent developments in ERG technology enable practitioners to gather information on ganglion cell activity within 28 seconds using an office-based vision testing system: the Diopsys® NOVA-ERG Vision Testing System. The Diopsys® NOVA-ERG Vision Testing System's advanced protocols use steady-state pattern electroretinography, which providing objective measurements on the function of the macula and retinal ganglion cells. Diopsys is currently developing an entire suite of testing modules for the eye care practitioner utilizing ERG and Visual evoked potentials (VEP) to measure activity in the retina and visual cortex.
"Findings from this important study linking frontotemporal dementia to loss of cells in the retina gives the science of ophthalmology great hope for future developments in technology," states Alberto Gonzalez, Research Director at Diopsys, Inc. "We look to the scientific community to provide data that supports our development efforts."
About Diopsys
Diopsys, Inc. is a medical instrumentation company specializing in developing office-based, non-invasive electrophysiology vision testing equipment utilizing Visual Evoked Potential (VEP) and pattern Electrophysiology (pERG). Diopsys has patented the Diopsys® NOVA-VEP and Diopsys® NOVA-ERG Vision Testing System and markets to optometrists and ophthalmologists to help in the detection, diagnosis and treatment of optic nerve and neuro-visual disorders including Glaucoma, Age-Related Macular Degeneration, Diabetic Retinopathy, Diabetic Macular Edema, Toxic Maculopathies and Multiple Sclerosis.