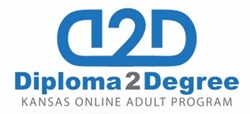 Diploma 2 Degree offers people in Kansas a second chance at a high school diploma, and it also gives them enough flexibility to fit that second chance into their lives.
(PRWEB) November 27, 2013
Representatives from Lyons--USD 405 and CompuHigh online high school met recently to review and collaborate on the new Diploma 2 Degree program which is in its first year of operation. The program provides an online option for adults in Kansas to finish high school and earn a diploma. Program improvements were devised to provide greater flexibility to reach out to more adults in Kansas who need a high school diploma but have difficulty fitting education into their already busy lives.
Diploma 2 Degree is adding an early enrollment option this year. Adults can enroll in the program and start working on one course anytime on or after February 1, 2014. Then when the regular school year begins in August of 2014, these adult students can sign up for additional courses.
Diploma 2 Degree is a public charter school program for adults living in the state of Kansas. Any adult over 21 years old who does not have a high school diploma can enroll for free. According to Lyons - USD 405 Superintendent Bill Day, "We are very excited to continue to make improvements to the Diploma 2 Degree program. Our latest changes will make the Diploma 2 Degree program simpler and more flexible for busy adults."
Courses at Diploma 2 Degree are self-paced, meaning students can log-on to their online course and do their school work whenever they have time. Because there are no pre-arranged meeting times for class, even adults with full time jobs and families have access to finishing high school. But this flexibility can actually pose a challenge for busy people to develop their own routine of fitting school work into their schedules. The early enrollment option is intended to ease this challenge by allowing adult students some time to get used to the online school and figure out a routine before the school year begins.
Diploma 2 Degree uses a mastery learning method that allows students to keep trying on each lesson with the one-on-one help of a certified teacher until they 'get it.' This allows students to build their academic skills as well as their confidence. Many students enrolled in the program's first year have expressed how helpful their teachers have been. In the words of one student, "The teacher helps a lot. Any time I do not understand, the teacher is always there to help." Students have also shared how excited they feel when they see themselves earning A's, sometimes for the first time.
Diploma 2 Degree results from a collaborative effort among Lyons-USD 405, a local Kansas School district; Pratt Community College; eduKan, an online consortium of Kansas community colleges; and CompuHigh online high school. CompuHigh has nearly 20 years of experience providing a self-paced, mastery education online to students all over the nation and internationally, including adult students returning to high school. CompuHigh brings this expertise in online education to the curriculum and learning management systems of Diploma 2 Degree.
"Diploma 2 Degree offers people in Kansas a second chance at a high school diploma, and it also gives them enough flexibility to fit that second chance into their lives," explains CompuHigh registrar Marianne O'Doherty. "Yet even with this flexibility, earning a high school diploma takes a strong commitment and plenty of hard work. We have found that the students who are successful carve out time for school work every week. These students have the dedication to keep working at it even after their initial enthusiasm wears off."
Diploma 2 Degree will be accepting new students starting February 1. To qualify for early enrollment, a person must be 21 or older, must live in Kansas, and must lack a high school diploma. To find out more about the program or to enroll, go to http://www.diploma2degree.com or call 1-866-859-0777.