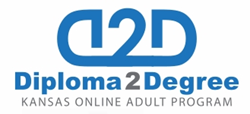 I am proud to graduate from Diploma 2 Degree. Because education is the most important thing in our lives.
Kansas (PRWEB) April 15, 2014
Diploma2Degree, an online adult high school program provided by CompuHigh and Lyons 405 extends a hearty congratulations to its first adult graduate, Iris Penaloza. Penaloza has completed her course work in this self-paced program and will be receiving her diploma from Lyons 405.
Diploma2Degree is a collaborative effort of a local Kansas school Lyons 405 and CompuHigh, a national online high school provider. This program is free to any adults 21 and over across the state of Kansas who need to finish their high school diploma. Diploma2Degree also enables students to begin earning college credits while finishing their high school requirements through a partnership with EduKan.
Completing high school has given Penaloza a tremendous sense of pride. She states, "I am proud to graduate from Diploma 2 Degree. Because education is the most important thing in our lives, Diploma to Degree is the opportunity to finish what I left in high school."
Like most adults, Penaloza has a busy life full of family and work responsibilities. She was able to fit high school into an already hectic schedule because of the flexibility Diploma2Degree offers. "Diploma 2 Degree gives the opportunity to work in our own space and time," Penaloza explains. Adults can log in to their courses any time of day or night to work on their lessons from home or wherever they have access to a computer with internet. But Penaloza did not feel as if she were alone with the course work. Certified teachers are provided for each class to guide adult students through the course material and help them revise their assignments. Penaloza found plenty of support and encouragement from D2D teachers and staff. "This program is full of benefits for us, and I enjoyed the time enrolled at this program because teachers are very helpful and nice," Penaloza says.
Diploma2Degree is now accepting early enrollments for the 2014-2015 school year. Adults who live anywhere in the state of Kansas and who need a high school diploma are eligible for this free program.
Diploma2Degree's online school systems, course material, and certified Kansas teachers are provided by CompuHigh online high school, which is an AdvancED accredited school.