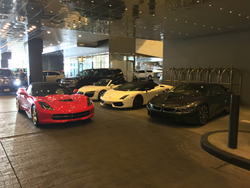 Las Vegas, Nevada (PRWEB) October 08, 2015
Vacationers, road trippers, spring break youths, high rollers, honeymooners, and so forth should take note that Diplomat Exotic Rentals has moved its offices to 4455 Paradise Road, Las Vegas, Nevada, 89169 at the Hard Rock Hotel and Casino. They are the first and only exotic car rental company at a Hotel Casino. The Hard Rock was recently upgraded, which includes extensive remodeling of its world-famous center bar. They should also feel free to rent various cars from the company, including the state-of-the-art hybrid super car BMW i8 and the equally impressive 2013 Lamborghini LP 550-2.
What else does this move mean for luxury car and sports car rental customers? For one thing, it's a more convenient place to visit, since Paradise Road is one of the central business hubs in Las Vegas. Another advantage of this strategic location is that it serves as a point of entry to the McCarran International Airport, so if clients are getting off at that particular airport, they could call and hire a rental car from Diplomat Rentals.
Paradise Road also serves as the northern leg of the Las Vegas Monorail, which runs down the center of the street for a part of the route then along the eastern side of the northern terminal of the rail. At that site, people have ready access to attractions on Paradise that include the aforementioned Las Vegas Monorail, the Sahara Hotel and Casio, the LVH (formerly known as the Las Vegas Hilton), the Las Vegas Convention Center, the Silver Sevens Hotel and Casino, Hard Rock Hotel and Casino (where the DR office is now located), and the aforesaid McCarran International Airport.
The ever-popular Hard Rock Hotel and Casino has been newly remodeled to better accommodate tourists and vacationers in Sin City. Its world-famous center bar, in particular, has undergone a major transformation. Customers who are looking for the perfect ride will have convenient access to a handful of quality hotels and casinos from the get go. It's in the best interests of clients to patronize Diplomat Exotic Rentals when it comes to inexpensive 24-hour temporary ownership of all sorts of luxury, exotic, and sports cars ranging from Ford, to Chevrolet, Ferrari, Audi R8, Lamborghini Aventador, Porsche, McLaren, Bentley, and even Rolls Royce automobiles.
Diplomat Exotic Rentals also offer competitive prices for the hybrid super car BMW i8, Lamborghini Gallardo, McLaren MP4-12C, or Ferrari 458 Italia rental cars. People who want to have an unforgettable experience while staying in Las Vegas can make their vacation or weekend trip all the more memorable with a requisite Diplomat Exotic Rentals' car of the exotic or luxurious kind. This way, they won't have to rely on public transportation in order to go from casino to casino or entertainment center to the entertainment center. They can get massages, go shopping, play golf, visit exhibits, watch concerts, or undergo various outdoor experiences and match their awesome experience with a sleek Lamborghini, Ferrari, Porsche, or Mercedes Benz.