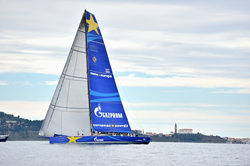 The multinational Esimit Sailing Team welcomed onboard Ambassador of Germany in Slovenia, dr. Anna Elisabeth Prinz.
Izola, Slovenia (PRWEB) September 13, 2014
Esimit Europa 2 was first across the finish line at the Diplomatic Regatta, which takes place every second Saturday of September in Izola. The race committee decided to shorten the regatta due to lack of wind and finish the race after the second round, so it took the crew one hour, 18 minutes and 19 seconds to achieve its 31st line honours victory.
As is tradition for the Diplomatic Regatta, the crew members are joined by guests representing diplomatic and consular missions accredited in Slovenia, along with representatives of the Slovenian ministries and the Government. The multinational Esimit Sailing Team welcomed onboard Ambassador of Germany in Slovenia, dr. Anna Elisabeth Prinz. "This is an excellent opportunity for us to be able to join the teams on board the boats, meet friends and get to know new people. Particullarly, I am glad that I was onboard this truly European boat with sailors from so many different countries," she said after the race.
"This is another victory for us, but because it is a diplomatic race, it is important that we are here to promote the message of friendship and cooperation between different nations and countries - this is also the key mission of this regatta," said Igor Simčič, founder of the Esimit Europa project.
This year spectators enjoyed the 12th edition of this unique race at the regatta field between Slovenian cities Izola and Koper. The Ministry of Foreign Affairs of the Republic of Slovenia is the honorary sponsor of the regatta and its organizing committee comprises members of the diplomatic corps and the Sailing Club Veter.
About:
The Esimit Europa project, founded by Igor Simčič and represented by the Esimit Europa 2 yacht, with its main sponsor Gazprom and official partner BMW, aims to promote cooperation and to spread the sense of a common European identity through the unifying power of sports. The 100 foot Maxi assembles on board 18 highly skilled sailors from 11 different nations who inspire the sailing values of teamwork, solidarity, innovation and collaboration. Furthermore, the Esimit Europa project is under the patronage of the President of the European Commission and has the official support of the President of the European Parliament, which allows the yacht to officially fly the European flag.
More info
Eldina Knez
info(at)esimit.com
http://www.esimit.com