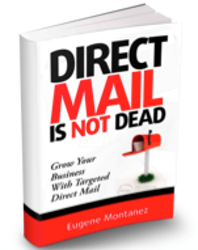 If you aren't including direct marketing to do that, then you're insane!
Corona, California (PRWEB) February 27, 2014
Author, business owner and marketing expert Eugene Montanez has announced the launch of his new book, "Direct Mail is Not Dead" on Amazon.com. Montanez aims to restore faith in direct mail advertising by showing business owners how to effectively put it to work to reach clients.
In the book, Montanez challenges claims that the traditional form of advertising has been dead and buried by online advertising strategies, including pay-per-click and social media plans, even while online giants like Facebook and Google continue to spend millions of dollars annually on direct mail marketing. According to Montanez, direct mail remains alive and well by incorporating technology to target audiences and get the message to the right people.
"Businesses can accurately measure the effects of their direct mail campaigns and stop wasting half of their advertising budgets on failed strategies," Montanez says. "Many business owners who aren't marketing experts attempt the same strategies over and over again without considering the potential of direct mail marketing.
"You know what they say about the definition of insanity, repeating the same strategies and expecting different results."
Montanez says his book will change the way business owners and marketers view direct mail by showing them how to develop a marketing plan from scratch, and how to measure its progress to know it is working. "Direct Mail is Not Dead" teaches readers why branding can be bad for businesses that do not have multi-million dollar marketing budgets, and shows them how to implement a direct mail marketing campaign that effectively grows sales and their business.
Topics covered in easy-to-understand language include: goal setting, three ways to grow a business, why branding can be bad for business, how to create laser-focused mailing lists and how to use email and websites with direct mail. Montanez also offers readers information on lesser-known strategies like drip marketing and trade show marketing, expertise on how to send the right message, and how to track results. He encourages readers to buy the book online by offering free bonuses to help them put his strategies to work, including:

A marketing plan work sheet and reminders designed to motivate and help maintain focus while implementing a powerful direct mail advertising campaign
A motivational poster to remind readers of the book's main pointers
Full color direct mail samples
A customer worksheet and a unique selling proposition work sheet
Examples of headlines that help craft a winning direct mail offer
"When you purchase this book, I want to make sure you get these free resources to help you implement the many strategies provided in the book, easily and effectively," Montanez says.
"Direct Mail is Not Dead" has received positive reviews from experts in business and marketing. Jeff Hayzlett, Host of "C-Suite with Jeffrey Hayzlett" on Bloomberg TV says, "In business you've got to adapt, change or die; whether you're on Wall Street or Main Street, everyone's goal is to increase the zeros on their bottom line.
"If you aren't including direct marketing to do that, then you're insane! Stop waiting for change to happen, Eugene will lead you to marketing success."
Henry J Evans, #1 best selling author of "The Hour A Day Entrepreneur," says, "Every business owner likes to chase shiny objects; Twitter this, Youtube that, and always looking for the magic bullet, but, the fundamentals never change."
Australian Marketing expert Marc Dussault, Ph.D. says, "Expert Eugene Montanez talks about how small-business owners can use direct mail successfully in this timely book. I personally love direct mail, and with email SPAM rates only going up, those business owners who realize direct mail is alive and well will do the best in this new economy."
For more information on "Direct Mail is not Dead," visit the book's Amazon.com website page.
About the Author, Eugene Montanez:
Eugene Montanez has an extensive background in business, marketing, online services and direct mail, since starting his own business, Allegra Marketing Print Mail, from his mother's garage when he was in high school. He and his wife Paula have grown the business into a successful, modern, digital, printing and marketing firm.
In addition to helping a variety of businesses grow through his unique marketing strategies, Montanez has owned other companies as well, including JamCaps, an international toy producer, and USA Coaters, an importer of printing machinery from China. Montanez served on the City of Corona Planning Commission for eight years before being elected to the City Council and served two terms as Mayor of Corona. He has been instrumental in attracting and retaining a number of nationally recognized companies to Corona.
###