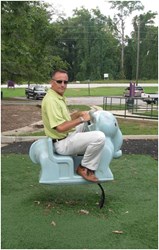 Lexington, VA (PRWEB) January 10, 2014
ParknPool, a leading online distributor of commercial grade furniture and site amenities such as picnic tables, park benches, bleachers, playgrounds and pool furniture, is excited to welcome Steve Caporini as their new Director of Sales and Business Development. Steve has over 20 years experience working in the business and looks forward to bringing his expertise to a company like ParknPool.
As Director of Sales, Steve will be responsible for the development and performance of all sales activities. He will staff and direct ParknPool's in-house team of account managers as well as recruit and train a field sales team consisting of contract sales reps. The position will require him to provide leadership towards the achievement of maximum profitability and growth in line with the company's vision and values. Steve will also use regular scheduled sales meetings, established plans and strategies to increase revenue and profit.
As the Business Developer, a new employment position for ParknPool, Steve will work closely with upper management and the Marketing Department to develop effective plans and strategies for both the sales and marketing teams. "We are thrilled to have Steve join our team. His experience and expertise are going to be an invaluable asset to us, and we are looking forward to an exciting and unprecedented 2014 and beyond," stated Laura Dudley, ParknPool's Marketing Manager.
In combination with the above job responsibilities, Steve Caporini will also identify and create appropriate sales strategies for targeting and closing new national accounts. Parknpool's staff looks forward to a successful 2014 and the experience that their new Director of Sales will bring to the existing strength of the organization. For more information about ParknPool, visit their website at http://www.parknpool.com or call 8777.777.3700.