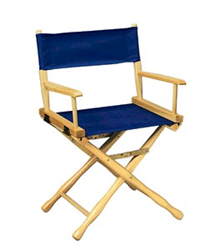 Tools for Stagecraft, located in Oak Park, CA, has directors chairs for sale that are guaranteed to make your next production famous.
Los Angeles, CA (PRWEB) June 03, 2014
For more than two decades, Tools for Stagecraft has been providing Film and TV directors, producers and technicians will the best directors chairs in the entertainment industry!
When customers purchase a director's chair from Tools for Stagecraft, they'll instantly be a Star!
Operating in the same city where Film and TV legends are born, Tools for Stagecraft is offering directors the very same design, quality and integrity as directors chairs that are used in filming the most iconic films in the history of cinema.
The popular gold medal directors chairs of classic hit movies from Hollywood's heyday are back and available now at Tools for Stagecraft.
Tools for Stagecraft offers beautiful directors chairs designed with optimal comfort in mind. A comfort that includes contoured arm rests for exceptional relaxation, and sleek legs with sculptured curvatures.
The design is classic and durable and covered in canvas that is suitable for indoor or outdoor use. These directors chairs are guaranteed to bring comfort, style, and history to any room.
Directors chairs from Tools from Stagecraft can be used for several occasions including outdoor events, trade shows, and home seating, all with the option of permanent or temporary seating, by folding the directors chairs to make more compact storage and easy transportation.
The chairs are covered in durable canvas in a multitude of colors that include royal blue, khaki, black, hunter green, white, and more. Customers are given the option to order replacement or additional canvas seats and backs for the chairs giving the benefit of changing the color for improved versatility.
Free shipping is available on all chairs in 48 states and customers may also select from four wood finishes to suit their specific preferences.
And for customers who would like their name on the back of their chair like all of the Hollywood Icons, they have plenty of embroidery choices as well.
Choices that include the option to add a name to one side, or to both the front and the backside of the directors chair canvas, with a personal preference selection for the text alignment.
There is also an option of up to two lines of text depending on font specifications and logos or additional lines can be chosen by request.
Tools for Stagecraft is the industry leader in directors chairs for a reason… And one can safely say that reason is pure quality.
Tools for Stagecraft is always ready and available to assist their customers with the most specialized and personable service.
To get more information or to place an order please call Tools for Stagecraft at 818-707-2656 or 877-80-TOOLS or visit their website at http://www.toolsforstagecraft.com.