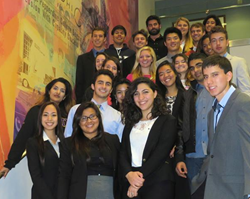 We're excited to share our journey with aspiring entrepreneurs
Malibu, California (PRWEB) November 05, 2014
Today, young entrepreneurs are not only fashioned by circumstance or environment, but more so uninhibited drive, grit and passion. And although there is no shortage of ideas, there are evermore facets in our daily lives that lend themselves to enhancement, construction, and utility – otherwise known as business opportunities.
Pepperdine Entrepreneur Club, a community where entrepreneurial minds share ideas, concepts, and experiences, has created an environment where students can learn from each other, as well as from successful business owners who offer real-world experiences.
"We're excited to share our journey with aspiring entrepreneurs," said Brilliant Directories Co-founder, Jason Haloossim. "It's incredibly helpful to have exposure to mentors who provide guidance and shed light on the entrepreneurial path."
Founded October 2012, Pepperdine Entrepreneur Club has provided invaluable opportunities for students to connect with Pepperdine alumni, network with supportive peers, and even introduce students to investors for new business funding.
The club's current President, Arpa Shahijanian, cares very much about continuing the mission set forth by the club's initial founders. With help from fellow members, Shahijanian facilitates networking opportunities, inviting distinguished guest speakers, promoting the club to Pepperdine classmates, as well as avidly participating in club events.
This week, Santa Monica Startup, Brilliant Directories Co-Founder, Jason Haloossim, and their Customer Success Director, Dennis Tinerino, will speak with the club about triumphs, challenges and strategies developed since the inception of the Brilliant Directories software. Pepperdine students and club members are invited to attend the event and will be able to participate in constructive conversations surrounding Brilliant Directories.
Event Details:
Time: 7:00 pm
Date: Thursday, November 6th, 2014
Location: Pepperdine University – Room CCB 303.
Address: 24255 Pacific Coast Hwy, Malibu, CA 90263
Attire: Business Casual
******************************
Brilliant Directories is a software company based in Santa Monica, California. Their directory software is used to create virtually any type of public or private search directory website. Founded in 2009, Brilliant Directories powers thousands of directory websites with millions of users worldwide -- from local organizations to global enterprises. Learn more at http://www.BrilliantDirectories.com or call 1-800-771-9332.