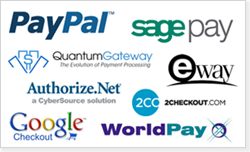 Integrating with over 25 payment gateways will enable more than 50 million people to utilize the business directory software.
Santa Monica, CA (PRWEB) December 23, 2013
With the release of their upcoming update, Brilliant Directories will extend its directory software platform to millions of new users worldwide. The business directory software enables website owners to generate revenue from memberships, advertisements, lead sales and more.
Prior to this update, directory owners were limited to using BrilliantPayments as the payment gateway for their online directories. An estimated 50 million people have accounts with the newly integrated payment gateways, which creates an opportunity for more users to utilize the benefits of Brilliant Directories.
"The goal of this update is make the directory software accessible to as many people as possible," said Brilliant Directories Co-Founder Jason Haloossim. "With users worldwide, it's important that we continuously add features with global benefits."
In addition to payment processing, Brilliant Directories also includes features such as refunds, invoices, and automated past-due reminders – making it one of the most complete business directory solutions on the market today. The update is scheduled to be released January 2014.
Brilliant Directories is a hosted directory software which enables website directory owners, private organizations and entrepreneurs to publish directory-driven websites. Designed to provide a recurring revenue stream to any online business, the directory software also includes advanced reporting, a fully integrated CRM, CMS, and built-in Payment Processing. Learn more at http://www.brilliantdirectories.com.