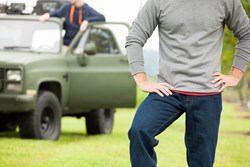 For every 100,000 pairs of jeans we make, we keep between 700,000 and 1,000,000 water bottles out of landfills.
Hickory, NC (PRWEB) September 23, 2013
One month ago, eco-friendly apparel brand Dirtball launched a crowdfunding campaign on Kickstarter to raise $40,000 in funding to cover mass-production costs of the Green Jean, the world's first pair of jeans made from recycled plastic water bottles and leftover organic cotton.
Over the last month, Dirtball has been working hard to spread the word about its crowdfunding campaign for the Green Jean throughout the crowdfunding, green and fashion worlds. Now, with just two days remaining in the campaign, Dirtball must reach its $40,000 goal in order to produce the world's greenest jean, and they need everyone's help.
In exchange for supporting Dirtball's Green Jean on Kickstarter, they're offering awesome rewards including a large portion of Dirtball's existing apparel line; t-shirts, polos, hoodies, hats, socks, stickers, patches and, of course, the Green Jean itself. The Green Jean can be pre-ordered on Kickstarter for just $85, and will come in four different washes; Regular, Rigid, Khaki and Enzymed.
"Each pair of jeans are made from anywhere between 8 and 10 recycled water bottles and leftover organic cotton straight from the cutting room floor," says Joe Fox, Founder and President of Dirtball. "For every 100,000 pairs of jeans we make, we keep between 700,000 and 1,000,000 water bottles out of landfills."
How does one make the Green Jean from water bottles and cotton? Post-consumer plastic bottles are sorted according to color, stripped of their labels and caps, washed and ground down to shavings. These flakes are then melted and extruded into a polyester fiber that is nearly identical, chemically and functionally, to virgin polyester. The cotton comes from industry scraps that hit the floor, and would usually go to landfills and the fiber is then spun into yarn and knitted into fabric to be cut and sewn into a jean garment.
To learn more about Dirtball's Green Jean or to order a pair today and support the Kickstarter campaign, visit the project's crowdfunding page at http://bit.ly/GreenJeanKS, Like them on Facebook and Follow them on Twitter @dirtballfashion.
About Dirtball
Founded in 2008 by Joe Fox, race car driver, entrepreneur and North Carolina native, Dirtball constructs eco-friendly apparel and gear for active individuals – cutting across age and gender lines. Dirtball only uses recycled materials in their products and all products are designed and produced in the United States the majority within a 250 mile radius of headquarters. Not only does the recycled content add to the ecological-friendliness of the company, but the U.S.-based manufacturing arm adds to the local economy and shortens shipping distances, thereby reducing Dirtball's carbon footprint. To learn more about Dirtball, visit http://www.dirtballfashion.com.