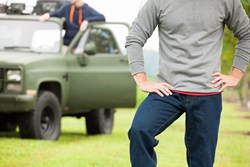 This winter is going to see some awesome eco-friendly fashion, that's for sure!
Hickory, NC (PRWEB) October 07, 2013
On August 26, eco-friendly and made-in-USA brand Dirtball launched a crowdfunding campaign for the Green Jean on Kickstarter. Joe Fox, founder and CEO of Dirtball, set the project's funding goal at $40,000, the cost of mass-producing the Green Jean, and successfully raised a total of $43,142.
What does it mean now that the Green Jean reached its crowdfunding goal? Now, with the $43,142 raised on Kickstarter, Joe Fox and his team will begin production of the jeans which will begin shipping this November. Those who missed out on the Kickstarter campaign can visit http://www.dirtballfashion.com to pre-order the Green Jean, among other stylish, eco-friendly Dirtball apparel including socks, hats, t-shirts, polos, sweatshirts, hoodies, shorts and more.
The Green Jean comes in four different washes; regular, rigid, khaki and enzymed. Each pair, depending on size, contains between 8 and 10 water bottles, and is 71% organic cotton straight from the cutting room floor and 29% recycled water bottles which have been repurposed to create a high-quality cotton/polyester denim.
"I can't wait to begin production of the Green Jean," says Fox. "We worked so hard during the Kickstarter campaign, and I can't believe we're actually ready to move forward. This winter is going to see some awesome eco-friendly fashion, that's for sure!"
Recycling pre-consumer cotton and plastic water bottles, as Dirtball does, helps keep over five billion pounds of waste from going into U.S. landfills each year. If Dirtball can save three billion plastic bottles from the landfills, it will be equivalent to saving over half a million barrels of oil, and eliminating 400,000 tons of harmful air emissions which contribute to acid rain, global warming and smog.
Each and every one of Dirtball's American-made apparel products are created utilizing only recycled materials and by producing their products entirely in the United States, they employ American workers while reducing carbon emissions due to shorter shipping distances.
To learn more about Dirtball's Green Jean or to pre-order a pair today, visit http://www.dirtballfashion.com/green-jean.html. Also, Like them on Facebook and Follow them on Twitter @dirtballfashion to learn about new product announcements, contests, events and more.
About Dirtball
Founded in 2008 by Joe Fox, race car driver, entrepreneur and North Carolina native, Dirtball constructs eco-friendly apparel and gear for active individuals – cutting across age and gender lines. Dirtball only uses recycled materials in their products and all products are designed and produced in the United States the majority within a 250 mile radius of headquarters. Not only does the recycled content add to the ecological-friendliness of the company, but the U.S.-based manufacturing arm adds to the local economy and shortens shipping distances, thereby reducing Dirtball's carbon footprint. To learn more about Dirtball, visit http://www.dirtballfashion.com.