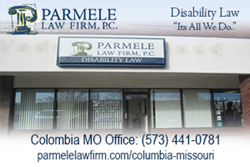 Disability Law"Its All We Do"
Columbia, MO (PRWEB) October 04, 2014
Parmele Law Firm understands that working with the Social Security Administration can be confusing, overwhelming and stressful. Individuals end up being denied without so much as an explanation. Trying to deal with the Social Security Administration alone can be one of the worst mistakes an individual can make.
Social Security Disability attorneys in Columbia MO - Parmele Law Firm have released 100's of Questions and Answers along with resources for their readers; answers to questions in terms of how the entire SSDI process works, how to go about appealing a claim when denied, determining who is eligible for payments and much more. Some of the more commonly asked Social Security Disability questions are outlined here:
1. When is an individual deemed disabled by the Social Security Administration?
2. What differentiates between Social Security Insurance and Social Security Disability Insurance?
3. Who makes the final determination as to whether an individual is disabled or not?
4. When should individuals actually apply for disability payments?
5. What is the application process like for social security disability?
6. How long is it going to take to receive a final decision for a disability claim?
7. What is the evidence used for determining whether the claim is going to be approved or denied?
8. Can individual receive financial help while waiting for a decision on the case?
9. Are there certain types of medical conditions that can help get claims approved automatically?
10. What does the claims rep do?
11. If individual are are able to work part-time, are they still eligible for disability payments?
12. Are car accident victims eligible for disability payments?
Answers to these and 100's more are available at http://parmelelawfirm.com. The website has published over 400 informative articles covering topics about eligibility, diseases that may not be covered, appeals processes, and more. From the website, visitors can schedule a free no-obligation consultation with the experience attorneys at Parmele Law Firm, P.C.
The Columbia office generally serves the communities of Fulton, Mexico, Centralia, Moberly, Macon, Fayette and Boonsville; however, any Missouri resident is encouraged to inquire.
About Parmele Law Firm, P.C.
Parmele Law Firm is considered to be one of the premier providers of Social Security disability legal assistance in the Midwest with offices in Missouri, Kansas and Illinois. Parmele Law Firm has close to 20 disability attorneys plus a team of paralegals and support staff that deal with social security disability insurance claims every day. Since its founding, Parmele Law Firm has represented over 50,000 cases against the Social Security Administration and has an excellent track record of success getting disabled people the SSD benefits they deserve. Parmele Law Firm offers free consultations.
Locations:
MISSOURI
Parmele Law Firm, P.C.
1610 N Kingshighway St #203
Cape Girardeau, MO 63701
(573) 651-0700
Parmele Law Firm, P.C.
3610 Buttonwood Dr Ste 200
Columbia, MO 65201
(573) 441-0781
Parmele Law Firm, P.C.
999 Diamond Ridge St #102
Jefferson City, MO 65109
(573) 635-5700
Parmele Law Firm, P.C.
614 S Main St
Joplin, MO 64801
(417) 206-4460
Parmele Law Firm, P.C.
2301 McGee St #150
Kansas City, MO 64108
(816) 531-3330
Parmele Law Firm, P.C.
2605 S Jefferson Ave
Lebanon, MO 65536
(417) 588-1366
Parmele Law Firm, P.C.
214 E Kansas St #102
Liberty, MO 64068
(816) 415-9300
Parmele Law Firm, PC
926 N Main St
Mountain Grove, MO 65711
(417) 926-6430
Parmele Law Firm, PA
7500 College BLVD
Overland Park, KS 66210
Phone:(816) 531-3330
Parmele Law Firm, P.C.
1720 Kanell Blvd #2
Poplar Bluff, MO 63901
(573) 785-6100
Parmele Law Firm, PC
1726 N Bishop Ave
Rolla, MO 65401
(573) 364-3003
Parmele Law Firm, PC
830 E Primrose St
Springfield, MO 65807
(417) 889-2570
Parmele Law Firm, P.C.
3105 Frederick Ave
St. Joseph, MO 64506
(816) 387-4445
Parmele Law Firm, P.C.
733 Forsyth BLVD #1100
st Louis, MO 63105
(314) 655-1448
Parmele Law Firm, P.C.
1207 Porter Wagoner Blvd
West Plains, MO 65775
(417) 255-2580
KANSAS
Parmele Law Firm, P.C.
2304 Planet Ave
Salina, KS 67401
(785) 825-4100
Parmele Law Firm, P.C.
3649 SW Burlingame Rd
Topeka, KS 66611
(785) 271-9333
Parmele Law Firm, P.C.
8623 E 32nd St N
Wichita, KS 67226
(316) 263-6300
ILLINOIS
Parmele Law Firm, P.C.
333 Salem Pl Ste 250
Fairview Heights, IL 62208
(618) 272-2724