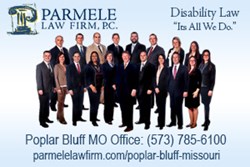 Poplar Bluff, MO (PRWEB) November 30, 2013
For Poplar Bluff MO residents, being unfamiliar with the benefit process and the law makes it difficult to obtain your rightful social security disability benefits. It is even more problematic for a seriously disabled individual to traverse the Social Security Administration without the help of a disability lawyer. That is the primary reason behind Parmele Law Firm's decision to provide no cost consultations on social security disability cases - both new claims and appeals. The introduction of complimentary consultations with a knowledgeable social security disability lawyer in Poplar Bluff MO offers local residents a place to go to seek advice pertaining to social security disability claims.
It is easy to request a consultation. There is a web form on the firm's website home page at parmelelawfirm.com. The website is able to accept consultation requests anytime day or night, making it easy for disabled persons to get the process started. Parmele Law Firm also encourages new website visitors who want to learn about the services of a social security disability lawyer to watch the overview video which contains important lessons-learned from representing over 50,000 disabled individuals.
Figuring out whether your disorder qualifies as a disability as defined by the Social Security Administration guidelines is not a simple task. The initial consultation provided by Parmele's disability lawyers is the starting point in finding out what disability benefits an individual could qualify for.
The Poplar Bluff MO office generally serves the communities of Dexter, McGee, Piedmont, Fredericktown, Doniphan and Malden, but any Missouri resident is encouraged to inquire.
About Parmele Law Firm, PC
Parmele Law Firm is considered to be one of the premier providers of Social Security disability legal assistance in the Midwest with offices in Missouri, Kansas and Illinois. Parmele Law Firm has close to 20 disability attorneys plus an excellent team of paralegals and support staff that deal with social security disability insurance claims every day. Since its founding, Parmele Law Firm has represented over 50,000 cases against the Social Security Administration and has an excellent track record of success getting disabled people the SSD benefits they deserve. Parmele Law Firm offers free consultations.
Contact
Parmele Law Firm
1720 Kanell Boulevard, #2
Poplar Bluff, MO 63901
(573) 785-6100
parmelelawfirm.com