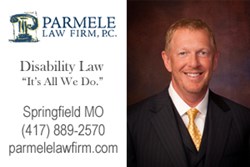 Springfield MO (PRWEB) October 31, 2013
Collecting your rightful social security disability benefits can be challenging when you are unfamiliar with the law and the process. It is even more difficult for a seriously disabled person to navigate the system without the assistance of a lawyer. That is the major reason behind Parmele Law Firm's decision to offer free consultations on social security disability cases - both new and appeals. Starting immediately, Parmele's team of social security disability lawyers in Springfield MO will be offering complimentary consultation appointments for disabled persons that would like to discuss SSDI (Social Security Disability Insurance) eligibility.
To make the process of setting an appointment easy, Parmele Law Firm has placed the consultation request form directly on the home page of their website at parmelelawfirm.com. Disabled individuals can use the web-based form at any time - day, night, weekends. Parmele Law Firm also encourages first site website visitors who which to learn about the services of a social security disability attorney to watch the overview video which provides valuable lessons-learned from providing legal representation to 50,000 disabled individuals.
The Springfield Missouri office generally serves the serves the Southwest Missouri communities of Bolivar, Buffalo, Marshfield, Ava, Ozark, Nixa, Branson, Cape Fair, Republic, Aurora, Monett and Mt Vernon, but any state resident is encouraged to inquire.
About Parmele Law Firm, PC
Parmele Law Firm is considered to be one of the premier providers of Social Security disability legal assistance in the Midwest with offices in Missouri, Kanasas and Illinois. Parmele Law Firm has close to 20 disability attorneys plus an excellent team of para-legals and support staff that deal with SSDI claims every day. Since its founding, Parmele Law Firm has represented over 50,000 cases against the Social Security Administration and has an excellent track record of success getting disabled people the SSD benefits they deserve. Parmele Law Firm offers free consultations.
Locations:
MISSOURI
Parmele Law Firm, PC
1610 North Kingshighway Street #203
Cape Girardeau, MO 63701
(573) 651-0700
Parmele Law Firm, PC
1900 North Providence Road #205
Columbia, MO 65202
(573) 441-0781
Parmele Law Firm, PC
1001 Craig Road Suite 240
Creve Coeur, MO 63146
(314) 655-1448
Parmele Law Firm, PC
999 Diamond Ridge #102
Jefferson City, MO 65109
(573) 635-5700
Parmele Law Firm, PC
614 South Main Street
Joplin, MO 64801
(417) 206-4460
Parmele Law Firm, PC
2301 McGee Street #150
Kansas City, MO 64108
(816) 531-3330
Parmele Law Firm, PC
2605 South Jefferson Avenue
Lebanon, MO 65536
(417) 588-1366
Parmele Law Firm, PC
214 East Kansas Street #102
Liberty, MO 64068
(816) 415-9300
Parmele Law Firm, PC
926 North Main Street
Mountain Grove, MO 65711
(417) 926-6430
Parmele Law Firm, PC
1720 Kanell Boulevard #2
Poplar Bluff, MO 63901
(573) 785-6100
Parmele Law Firm, PC
1726 North Bishop Avenue
Rolla, MO 65401
(573) 364-3003
Parmele Law Firm, PC
830 East Primrose Street
Springfield, MO 65807
(417) 889-2570
Parmele Law Firm, PC
3105 Frederick Avenue
St. Joseph, MO 64506
(816) 387-4445
Parmele Law Firm, PC
720 Olive Street #2200
St. Louis, MO 53101
(314) 655-1448
Parmele Law Firm, PC
1207 Porter Wagoner Boulevard
West Plains, MO 65775
(417) 255-2580
KANSAS
Parmele Law Firm, PC
2304 Planet Avenue
Salina, KS 67401
(785) 825-4100
Parmele Law Firm, PC
3649 Southwest Burlingame Road
Topeka, KS 66611
(785) 271-9333
Parmele Law Firm, PC
8623 E 32nd Street North
Wichita, KS 67226
(316) 263-6300
ILLINOIS
Parmele Law Firm, PC
333 Salem PlaceSuite 250
Fairview Heights, IL 62208
(618) 272-2724