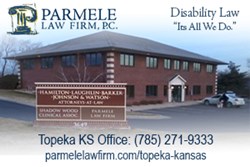 Topeka, KS (PRWEB) December 08, 2013
For residents of Topeka, KS, being unfamiliar with the law and the benefits process can make it difficult to obtain your rightful social security disability benefits. Without the help of an attorney, this is a huge undertaking for a person who is concurrently struggling with a disability. That is the primary reason behind Parmele Law Firm's decision to provide no cost consultations on social security disability cases - both new claims and appeals. The introduction of complimentary consultations with an experienced social security disability attorney in Topeka, KS gives area residents a place to go to ask questions and get answers pertaining to social security disability claims.
It is simple to request a consultation. There is a web form on the company's home page at parmelelawfirm.com. Disabled individuals can use the web-based form at any time - day, night, weekends. Once on the website, Parmele Law Firm's founder Daniel Parmele encourages visitors to watch the overview video. The video explains the services of a social security disability lawyer and Parmele's broad experience in disability law.
It can be hard to determine whether your disorder meets the Social Security Administration criteria for a disability. The initial consultation offered by Parmele's disability lawyers is the first step in finding out what disability benefits an individual could be eligible to receive.
The Topeka, KS office generally serves the communities of Manhattan, Wamego, Holton, Council Grove, Emporia, Burlington, Ottawa Baldwin City and Lawrence, but any Kansas resident is encouraged to inquire.
About Parmele Law Firm, PC
Parmele Law Firm is considered to be one of the premier providers of Social Security disability legal assistance in the Midwest with offices in Missouri, Kansas and Illinois. Parmele Law Firm has close to 20 disability attorneys plus an excellent team of paralegals and support staff that deal with social security disability insurance claims every day. Since its founding, Parmele Law Firm has represented over 50,000 cases against the Social Security Administration and has an excellent track record of success getting disabled people the SSD benefits they deserve. Parmele Law Firm offers free consultations.
Contact
Parmele Law Firm
3649 Southwest Burlingame Road
Topeka, KS 66611
(785) 271-9333
http://www.parmelelawfirm.com