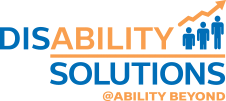 Hiring people with disabilities is simply good business
Bethel, CT (PRWEB) July 12, 2017
Like most jobseekers, Julie Cuesta prepared extensively for her interview at the Synchrony Financial call center in Kettering, Ohio. She learned about the company and made a list of her specific skills that would benefit the corporation. Now a year later, Julie, who happens to have a disability, is an enthusiastic and valued member of the Synchrony Financial family. Synchrony Financial is connecting with valuable talent, like Julie, thanks to innovative services provided by Disability Solutions.
Disability Solutions is the national non-profit consulting division of Ability Beyond headquartered in Bethel, Connecticut. Disability Solutions helps businesses of all sizes diversify their workforce through the inclusion of employees with disabilities. Disability Solutions' innovative approach works hand-in-hand with an employer's executives and human resource professionals to:

Create programs with measurable business impact
Tap into new channels of qualified talent
Provide opportunities in the hiring process for jobseekers with disabilities
Educate and empower leaders to support employees with disabilities
Leverage federal and state hiring incentives
Create positive brand and regulatory impact
Most importantly, Disability Solutions enables people with disabilities to achieve financial independence.
"Julie's experience serves as one example of why hiring people with disabilities is simply good business," said Julie Sowash, Senior Consultant of Disability Solutions (DS). "These initiatives allow forward-thinking companies like Synchrony Financial to connect with qualified, talented jobseekers, while assisting qualified workers like Julie to find meaningful and rewarding careers."
Brianne Lott, MRC, CRC, a Consultant with DS who specializes in government programs, notes that finding employment is even more critical now with changes looming to the Medicaid system. Under the proposed American Healthcare Act, states would receive a capped block grant rather than payments based on need. The number of people eligible for Medicaid would likely be drastically cut.
"Currently, many states offer a Medicaid buy-in program that allows people with disabilities (PWD) to have a job and keep their coverage by paying a low monthly premium," explains Lott. "This is a work incentive so that they can have more income, pay taxes, and stimulate the economy, while still having the Medicaid support that they need to be independent. Unfortunately, states may have to eliminate this option."
But for ground-breaking national and global companies like Synchrony Financial and PepsiCo, the benefits of hiring people with disabilities go well beyond the bottom line. Disability and Inclusion initiatives support other key workforce objectives including productivity, engagement, diversity, inclusion, turnover, retention, and morale. These companies also recognize the high-value talent pool and buying power of the disability community around the world. A systematic outreach that also includes veterans with service-related disabilities can help a corporation meet federal and state compliance requirements.
Disability Solutions works with federal contractors or subcontractors that now have an expectation to actively recruit and hire people with disabilities, as well as veterans with disabilities. In general, the goal is that 7% of employees across all job groups will be PWD and 6.7% of all hires will be veterans. "Disability Solutions helps build and document critical outreach and hiring efforts in the disability community, says Sowash. At the end of the day, it's not just about being compliant; it is helping company achieve their business goals by sourcing and hiring talented people with disabilities."
Disability Solutions' tagline is changing minds and changing lives and they believe by working with employers, the conversation about what people with disabilities can achieve and bring to the workforce will change dramatically and positively. "We work with businesses to develop and implement a customized plan using a unique methodology," concludes Sowash. "We identify talent gaps, then match jobseekers with the highest potential for success, both within the job and the company. It's a win-win for everyone."
Founded in 2012, Disability Solutions focuses on helping corporations tap new channels for qualified talent, manage culture change, respond to a changing regulatory environment, and strengthen their workforce through diversity. To learn more visit: http://www.disabilitysolutionsatwork.org/ or for more information about the Career Center, please visit Disability Solutions Career Center.
###
PHOTO: The Synchrony Financial call center in Kettering, OH hired employee Julie Cuesta a year after partnering with a pioneering nonprofit consulting service called Disability Solutions.