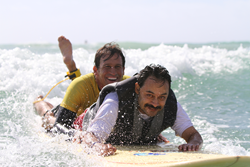 The rehabilitative activities provided by AcesSurf can make a huge difference to people suffering from disabilities.
Honolulu, HI (PRWEB) June 17, 2015
Honolulu insurance company Ross Esaki Insurance has announced a joint fundraising campaign with AccesSurf, a Hawaii-based charity that encourages individuals to overcome cognitive, emotional, and physical disabilities by engaging in adaptive surfing and swimming activities.
According to local residents, Hawaii is the surfing capital of the world, so it should be no surprise that AccesSurf utilizes the ocean in an effort to support and empower disabled individuals. One resident, Rene Arellano, suffered a severe spinal cord injury in 2011 that left him nearly completely paralyzed. Now, four years later, Rene is an active participant in AccesSurf activities, and feels more capable and in control of his life than ever before. "There is no way to describe how it feels to be out of my wheel chair and feel the freedom of the water," says Rene.
Ross Esaki, owner of Ross Esaki Insurance and a local Honolulu resident, has seen the healing power of the ocean first hand. "Working with AccesSurf to empower local community members with disabilities has been an eye-opening experience," says Esaki. "I've always known that surfing and swimming are good for your health, but now I know it goes far deeper than that. The rehabilitative activities provided by AcesSurf can make a huge difference to people suffering from disabilities."
Drawing on an extensive network of local contacts, Ross Esaki and his team have been reaching out to community members, friends, neighbors, and clients in an effort to raise funds that will be used to ensure AccesSurf continues operating at peak levels. Esaki has even stepped into the online arena by harnessing the power of social media to raise awareness about AccesSurf.
In addition to supporting AccesSurf, Ross Esaki has committed to championing even more local charities in the weeks to come, and the Esaki team will be working with a new charity every 30-60 days. To support Esakit and AccesSurf, readers are encouraged to visit the charity page and donate directly here. To stay abreast of the new charities that Ross Esaki Insurance supports in the months ahead, visit their Community Cause page here.
About Ross Esaki Insurance
As a Personal Finance Representative in Hawaii, agency owner, Ross Esaki, knows many local families. His knowledge and understanding of the people in his community help provide customers with an outstanding level of service. Ross and his team look forward to helping families protect the things that are important - family, home, car and more. They can also help clients prepare a strategy to achieve their financial goals. To contact an expert at Ross Esaki Insurance, call (808) 254.5138.