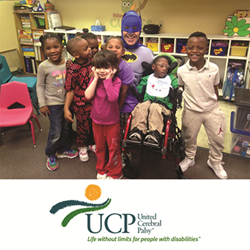 Everyone in our community, regardless of their ability level, has the right to a full and productive life without restrictions, and the UCP charity event will help empower disabled people in our community
Little Rock, AR (PRWEB) August 15, 2016
Dickinson Insurance and Financial Services, an Alabama-based insurance and financial planning provider with offices serving the Little Rock, Bentonville, Bryant, and Conway regions, is initiating a combined charity event with United Cerebral Palsy in an effort to raise funds that will benefit disabled residents in the area.
Founded in 1957, United Cerebral Palsy is now one of the largest health-related nonprofit organizations in America. The UCP mission is to advance the independence and productivity of people with disabilities in an effort to ensure they are free to enjoy a full and meaningful life. UCP services have grown to include people with many kinds of disabilities; 65% of those served by UCP have a disability other than cerebral palsy.
"Everyone in our community, regardless of their ability level, has the right to a full and productive life without restrictions, and the UCP charity event will help empower disabled people in our community," says Jason Dickinson, owner and principal of Dickinson Insurance and Financial Services.
Joined by his professional team, Dickinson is working to build bridges between local community leaders, families, and business managers in the region to gather support for the UCP charity event. The Dickinson team will also be producing a feature article detailing the charity drive for publication in the firm's online magazine "Our Hometown": http://www.dickinsoninsuranceagency.com/Our-Hometown-Magazine_39.
The UCP is only the latest of many charities and nonprofit organizations supported by the efforts of Dickinson Insurance and Financial Services. Over the last two years, the Dickinson team has assisted more than a dozen charities operating in Alabama, and the team has committed to assisting another new charity every sixty days.
Any readers that want to join Dickinson Insurance and Financial Services and take part in the UCP charity event can find information on providing direct support to the effort from this page: http://www.dickinsoninsuranceagency.com/Empowering-Children-with-Cerebral-Palsy_24_community_cause. All those who want to know more about previous charitable causes, nonprofits, and foundations supported by the Dickinson Insurance team can find a full roster of the firm's Community Causes here: http://www.dickinsoninsuranceagency.com/community-cause.
About Dickinson Insurance and Financial Services
The Dickinson Team is proud to be part of a company that has been serving satisfied customers for over 70 years. They offer quality insurance that's affordable and provide easy access for clients to contact them in person, over the phone, or through their website—wherever and whenever clients need. Dickinson knows how important price and excellence in service are in building long-lasting relationships, and they make every effort to secure that loyalty by holding high standards, individually and as a team. To contact an expert at Dickinson Insurance and Financial Services, call (501) 221-3000.