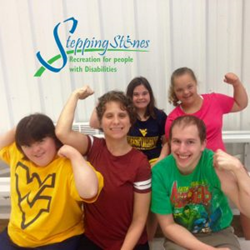 Stepping Stones helps many people in our area learn to live with their disabilities while maintaining their independence and dignity, and our goal is to ensure these programs continue to help people in our area
Morgantown, WV (PRWEB) June 23, 2017
Radabaugh & Associates, a locally owned firm providing asset protection services and personal financial planning to families and business owners in North Central West Virginia, is embarking on a cooperative charity drive with the Stepping Stones organization to help provide services to differently abled residents in the region.
The Stepping Stones organization offers a series of personal development activities to children, adults, and families learning to live with disabilities. These programs allow participants to summon strength, courage, and self-confidence, as well as learning how to increase personal independence. Programs offered by Stepping Stones change with the seasons, and participants are encouraged to return for new seasonal programs.
"Stepping Stones helps many people in our area learn to live with their disabilities while maintaining their independence and dignity, and our goal is to ensure these programs continue to help people in our area," says Jeremy Radabaugh, founder and executive director of Radabaugh & Associates.
In an effort to generate publicity and community support for the ongoing efforts of the Stepping Stones organization, Radabaugh and his team are connecting with local residents and policy makers over social media and email. Further efforts to raise awareness and support will include a write up on the charity drive in the upcoming issue of "Our Hometown," a monthly online magazine hosted by Radabaugh & Associates: http://insuranceinwv.com/magazines/.
The Stepping Stones charity event is only the first of many planned by Radabaugh and his team. Recently, Radabaugh & Associates was welcomed into the "Agents of Change" national charity support group, and the firm is committed to finding and working with a new charitable organization in West Virginia every other month.
Readers who want to know more about the Stepping Stones charity drive, and those who wish to be part of the event, are invited by Radabaugh & Associates to visit the following page and take action to support the cause: http://insuranceinwv.com/causes/focusing-independence-not-disability/. As new charity drives are launched by Radabaugh & Associates, details will be provided on the firm's Community Causes page: http://insuranceinwv.com/community/.
About Radabaugh & Associates
As a Personal Finance Representative in Morgantown, agency owner Jeremy Radabaugh knows many local families. His knowledge and understanding of the people in his community ensures that clients of Radabaugh & Associates are provided with an outstanding level of service. Jeremy and his team look forward to helping families protect the things that are most important – family, home, car and more. Radabaugh & Associates also offers clients a preparation strategy for achieving their financial goals. To contact an expert at Radabaugh & Associates, visit http://insuranceinwv.com/ or call (304) 777-2453.