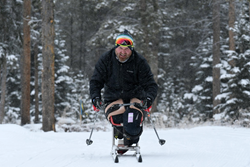 The Hartford Ski Spectacular has been the go to event for individuals with disabilities to get world-class instruction in skiing and snowboarding and exemplifies how our athletes are achieving their goals and gaining independence through the power of sports
BRECKENRIDGE, Colo. (PRWEB) November 27, 2018
Disabled Sports USA (DSUSA) is hosting the 31st annual The Hartford Ski Spectacular December 3-9 at Beaver Run Resort and Breckenridge Ski Resort in Breckenridge, Colorado. The week-long event, sponsored by The Hartford, is among the nation's largest winter sports festivals for individuals with physical disabilities. More than 800 participants, ranging in ability from first-time skiers to members of the U.S. Paralympic Team, come together to kick off the winter season with instruction and competitions that teach beginners and train athletes for national and international competitions.
Paralympians Mike Schultz and Noah Elliott, who medaled for Team USA at the 2018 Winter Paralympic Games in PyeongChang, South Korea, are among the participants.
Also participating will be more than 100 wounded military veterans, service members, family and military medical staff from the U.S. and Great Britain. Wounded or injured service members are coming from Walter Reed National Military Medical Center, San Antonio Military Medical Center, Naval Medical Center San Diego and from across the country. Since 2003, Disabled Sports USA has served more than 13,000 severely wounded or injured veterans, service members and family members, offering nationwide programs in more than 50 different adaptive sports.
"As a veteran who tried limb salvage for 4+ years and was unable to ski or participate in any sport activity, it had detrimental effects both emotionally and physically on me. After undergoing my amputation, you have questions as to what is my new normal, what can I do and what can't I do," said retired U.S. Marine Corps Master Sergeant Todd Smalenberg. "Thanks to DSUSA and Warfighter Sports you learn that you can do what you always have done, in just different ways, you just have to adapt to some things. It teaches and shows you these important aspects, which impacts your everyday life. You get to see and do the normal things that you always did, which impacts you physically and emotionally in positive ways. It gives you back your life, and that is priceless."
Among participants this year will be survivors severely injured in the mass shooting in Las Vegas on October 1, 2017, including Chelsea Romo who lost one eye and suffered damage in her other eye. "I can't wait to come to The Hartford Ski Spectacular and give snowboarding a try! I've been through a lot this since last October, and this is an amazing opportunity to have fun and learn a new sport."
"Learn to" programs in alpine and Nordic skiing, biathlon, sled hockey, curling, ice skating and snowboarding will be offered. In addition to these lessons, The Hartford Ski Spectacular also strengthens and expands adaptive snow sports programs in communities throughout the United States by training staff and volunteers at DSUSA chapters in the National Adaptive Academy. The ski instructor academy, endorsed by Professional Ski Instructors of America - American Association of Snowboard Instructors (PSIA-AASI), offers training for instructors in the latest and safest adaptive ski and snowboard techniques for individuals with disabilities.
"We are thrilled to partner with The Hartford, the U.S. Department of Veterans Affairs, and other generous supporters to kick off the winter season with this premier adaptive sports event for youth and adults with disabilities," said Glenn Merry, executive director of DSUSA. "The Hartford Ski Spectacular has been the go to event for individuals with disabilities to get world-class instruction in skiing and snowboarding and exemplifies how our athletes are achieving their goals and gaining independence through the power of sports."
The Hartford, a founding partner of U.S. Paralympics, is celebrating its 25th anniversary as the title sponsor of The Hartford Ski Spectacular. In addition, The Hartford is expanding its partnership with DSUSA through its new Ability Equipped program to improve access to adaptive sports and equipment as well as grants to more than 20 of its local chapters across the country.
"The Hartford is honored to celebrate its 25th anniversary as the title sponsor of this incredible event," said Mike Concannon, head of Group Benefits at The Hartford. "We are also proud to expand our support for DSUSA through our new program. Our partnership with DSUSA helps demonstrate our Ability Philosophy, which focuses on what a person can do, versus a perceived limitation. We believe that with the right resources and a focus on ability, people can achieve amazing things."
The Hartford is a leading provider of group disability insurance and has a long-held belief that sports are an important part of physical rehabilitation following a disabling illness or injury. As a founding partner, The Hartford has supported U.S. Paralympic athletes for more than 20 years through its sponsorship of U.S. Paralympics, a division of the United States Olympic Committee (USOC), and its dedication to recruiting and training elite athletes with physical and visual disabilities.
The Hartford Ski Spectacular's Presenting Sponsor is the U.S. Department of Veterans Affairs. The U.S. Department of Veterans Affairs Grants for Adaptive Sports Programs for Disabled Veterans and Disabled Members of the Armed Forces Program provides funding to organizations to increase, expand and enhance the quantity and quality of adaptive sport activities available for disabled veterans and members of the armed forces to participate in physical activity within their home communities, as well as more advanced U.S. Paralympic and adaptive sport programs at the regional and national levels. The U.S. Department of Veterans Affairs provides essential equipment and technical support to The Hartford Ski Spectacular. For more information on VA Adaptive Sports programs visit http://www.va.gov/adaptivesports.
The event is also sponsored by Oshkosh Defense, Wash Depot, Veritas Capital, Bob Woodruff Foundation, Tee It Up for the Troops, Medical Center Orthotics & Prosthetics, DAV Charitable Service Trust, Beaver Run Resort & Conference Center, Breckenridge Ski Resort, and Breck Sports.
Partnering organizations include Professional Ski Instructors of America-American Association of Snowboard Instructors (PSIA-AASI), Vail Adaptive Sports, USA Curling, USA Figure Skating and Colorado Adaptive Sports Foundation. Participating Disabled Sports USA chapters include host chapter Breckenridge Outdoor Education Center and contributing chapters New England Disabled Sports, Oregon Adaptive Sports, Outdoors for All Foundation, and Waterville Valley Adaptive Sports.
Follow the action at The Hartford Ski Spectacular on Twitter, Facebook and Instagram. Look for @DisabledSportUS and #skispec on Twitter and Disabled Sports USA on Facebook, as well as @TheHartford on Twitter, Facebook, and Instagram. To get involved and pledge support, please visit https://www.disabledsportsusa.org.
About Disabled Sports USA
Founded in 1967, Disabled Sports USA is a national charitable organization that provides opportunities for individuals with disabilities to develop independence, confidence, and fitness through participation in sports. What began as a program to serve Vietnam veterans has since grown into one of the nation's largest multi-sport, multi-disability organizations, annually serving more than 60,000 wounded warriors, youth, and adults with disabilities. A member of the U.S. Olympic Committee, Disabled Sports USA offers programs in more than 50 summer and winter sports through its nationwide network of more than 125 community-based chapters. For more information, visit http://www.disabledsportsusa.org.