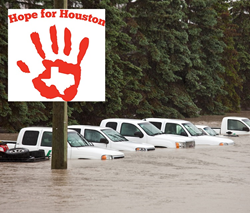 It is estimated that over 30,000 people will be forced from their homes. And while spirits have remained high, an unfathomable number of families have been temporarily displaced from their homes and we want to do whatever we can to make their lives more at peace and get them back on track
Bessemer, AL (PRWEB) September 25, 2017
The Byron Eaton Agency, a Birmingham based firm that provides insurance and financial preparation services to communities in the central Alabama region, is organizing a local charity drive to send money and support to families in the Houston area affected by Hurricane Harvey.
More than 11 trillion gallons of water have fallen on Houston as a result of Hurricane Harvey, raising water levels by as much as 35 inches. The resulting catastrophic floods have destroyed homes, stores, and infrastructure, and many families will require assistance finding basic necessities like food, water, and shelter over the coming weeks and even months.
"It is estimated that over 30,000 people will be forced from their homes. And while spirits have remained high, an unfathomable number of families have been temporarily displaced from their homes and we want to do whatever we can to make their lives more at peace and get them back on track," says Byron Eaton, principal agent and founding director of the Byron Eaton Agency.
In an ongoing effort to share information about the destruction wrought by Hurricane Harvey and gather support for families in Houston, Eaton and his team are reaching out to Alabama families over social media and email channels. More support is expected after the publication of a soon to be released article detailing the charity event, scheduled to appear in the next edition of the Byron Eaton Agency online magazine "Our Hometown": http://byroneatonagency.com/magazines/.
This is the second major charity event hosted by the Byron Eaton Agency since the firm became an Alabama affiliate of the "Agents of Change" national charity assistance coalition. As dedicated members of this group, the Byron Eaton team will be organizing additional charity events in the future to assist a wide range of causes.
For anyone that would like to learn more about ongoing efforts to provide support to families suffering from the effects of Hurricane Harvey, the Byron Eaton Agency provides additional information on the following page: http://byroneatonagency.com/causes/helping-victims-hurricane-harvey/. Future charity events sponsored by Eaton and his team will be announced from the agency's Community Causes roster: http://byroneatonagency.com/community/.
About the Byron Eaton Agency
As a Personal Finance Representative in the greater Birmingham area, agency owner Byron Eaton knows many local families. His knowledge and understanding of the people in his community ensures that clients of the Byron Eaton Agency are provided with an outstanding level of service. Byron and his team look forward to helping families protect the things that are most important – family, home, car and more. The Byron Eaton Agency also offers clients a preparation strategy for achieving their financial goals. To contact an expert at the Byron Eaton Agency, visit http://byroneatonagency.com/ or call (205) 565-0313.