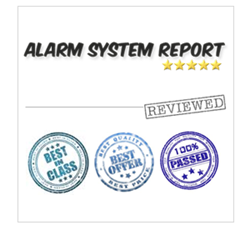 Disasters can happen at any moment it is important that all members of your family are ready and aware of what to do if one were to occur. Consumers now have a resourceful checklist to ensure their families safety in the event of an emergency.
Phoenix, Arizona (PRWEB) October 03, 2013
Emergency situations happen every day—whether it be a natural disaster, a fire, a break-in or any number of other circumstances. Everything from tornadoes and earthquakes to home invasions should be taken into account when planning for the worst. No one wants to think about the worst, but by being prepared it's possible to minimize the devastation that can occur as a result of these events.
The home safety and alarm specialists at AlarmSystemReport.com created a list of tips for individuals to prepare for those dreaded worst case scenarios. AlarmSystemReport.com is a site that reviews alarm system companies and ranks the best alarm companies throughout the country.
1. Installing wireless home alarm systems can mean that a family will be protect from looters or other intruders in case of a power outage. Since these alarms are battery operated they will continue to work even if the rest of the power isn't operational. Cellular alarm systems can provide a similar level of protection in case of an emergency.
2. Know the risks. One of the first steps for creating an emergency plan is to know what is being faced. For example, for individuals that live in a tornado-prone area, it's important to plan for severe weather and power outages. For people who live in areas that are known for having high crime rates, it's best to prepare for the possibility of a break-in or the loss of valuables.
3. Every member of a household should be fully aware of everything involved in an emergency plan. This includes children. Update family members regularly if the plan changes, or just to refresh the concepts of the emergency plan. In times of disaster it's important that everyone be on the same page.
4. Store any emergency supplies in a safe area of the home—this could include an underground, water-tight area or a structure that is located away from the home, such as a detached garage.
5. If an individual lives in an area that is highly exposed to crime, it may be a good idea to consider building a safe room. FEMA provides citizens with plans and instructions for building a DIY safe room, as well as guidelines for how to stock such a room.
6. As part of any effective emergency plan, compile a list of all important contacts. In case of emergency this information could be forgotten, or a cell phone with these numbers may not be accessible.
About AlarmSystemReport.com
AlarmSystemReport.com is the leading provider of information regarding the home alarm industry. The site creates comprehensive reviews of the top home alarm companies in the country, including ADT reviews. Additionally, the site provides consumers with valuable discount codes and coupons for the purchase of home alarm systems and equipment.