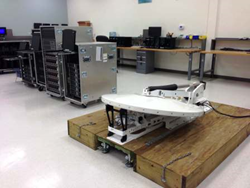 This is just one of the steps we take to ensure that our property insurance clients can count on us to be there for them and their policyholders no matter what.
Tampa, FL (PRWEB) May 14, 2014
Florida based CatManDo, Inc. announced today that it had successfully completed another full systems recovery based on a simulated catastrophic loss of all data and voice resources to its Tampa, Fl. headquarters office. As an independent property insurance adjusting company and Third Party Administrator (TPA) that services insurance carriers and their policyholders, one can understand why it is so critical that the firm maintain its operations when others are losing theirs. The test demonstrated the ability for CatManDo to bring all servers, workstations, voice and data access back online in less than 48 hours using generator power, satellite links, and a 48 seat mobile office for its workers in the event of a catastrophic event. This demonstrated CatManDo's commitment to being there with mission critical information when it counts most for its clients and their policyholders.
Using the Atlanta-based test center of Agility Recovery Solutions with whom CatManDo has been a member since 2006, management and technical staff from CatManDo working with Agility's operations team successfully established a complete infrastructure and working environment that mirrored its operations. This included all servers and server applications, custom configured workstations with all necessary applications, a full working phone system with recognition of all incoming client lines that allow proper answering protocols to be followed and the provisioning of other mission critical equipment and resources.
Since the last simulated recovery exercise CatManDo conducted, the firm has transitioned more of its infrastructure to the cloud which greatly simplifies and speeds the emergency recovery process. This reduced the time required to reestablish all systems from just under 8 hours in the last test, to approximately 3 hours with this exercise.
Commenting on the test, Steve Lugar, Executive Vice President of CatManDo, stated that "conducting a simulated recovery is an important part of an overall Disaster Recovery Plan and with the investments we've made in building a resilient and distributed infrastructure over the last 18 months, it was important that we conduct new tests to ensure all processes would work as planned. We were very pleased with the speed and simplicity with which we were able to reestablish our operating environment," stated Mr. Lugar.
Tony Zuffa, President of Element IT Solutions, the partner that has helped CatManDo build and maintain its technical infrastructure since its inception, also commented on the test. "Since late 2012, we've been working with CatManDo to build more redundancy and guaranteed up-time into its systems. This includes a hosted VOIP phone system, virtualized server configurations with offsite failover provisions, and secondary and tertiary server backups in hardened hosting facilities. CatManDo has been very aggressive utilizing the advances in cloud-based computing, and this test validated the effectiveness of this strategy in responding to catastrophic events," Mr Zuffa stated.
In addition to providing independent claim services for many insurance carriers, CatManDo also acts as the Third Party Administrator for four firms requiring it to provide everything from call-handling for initial loss notices all the way to cutting checks to the policyholder. It understands that the times and events that cause so much disruption for others are exactly the time when they need to be operating at peak efficiency. Chuck Ross, President of CatManDo stated, "this is just one of the steps we take to ensure that our clients can count on us to be there for them and their policyholders no matter what".
Agility Recovery, a former division of General Electric, is North America's premier provider of business continuity and disaster recovery solutions to organizations of all types. Agility provides robust and easy-to-implement recovery solutions for an affordable monthly membership fee, including access to temporary power generators, mobile and brick & mortar office space with office furnishings, communications access & equipment and computer systems. For more than 25 years, Agility has rescued thousands of organizations after disasters large and small, with a 100% success rate. For more information, visit http://www.agilityrecovery.com or call 877-364-9494.
CatManDo Inc. is a full service independent insurance adjusting company, providing accurate, cost-effective and reliable property insurance claims adjusting and insurance appraisal services to insurance carriers doing business in the State of Florida. The firm was founded in 2000 with the express purpose of providing a higher quality of claims service than is currently available. Known as the "Carriers' Adjusting Company," CatManDo utilizes years of inside insurance carrier experience and maintains a broad network of highly trained and experienced adjusters.