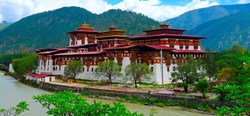 Journey to Bhutan, and explore the country that coined the term 'Gross National Happiness' !
(PRWEB UK) 18 October 2013
Discerning Journeys in Bhutan
http://www.discerningjourneys.com
Established earlier this year by Arjun Sinsinwar, a long time visitor and supporter of Bhutan, Discerning Journeys has over 30 years experience operating in the country, and feels that now is the right time to be promoting for both special interest and adventure tourism. Arjun has previously been successful in promoting specialist, luxury travel, as well as river cruising, in India.
"Not many people know that it has a political setup similar to the UK as a Parliamentary Democracy with a Constitutional Monarchy. Traditional architecture, community festivals, culinary experiences, monasteries, difficult flowers such as species of Poppies and Rhododendrons, are just some of the things that this pristine country offers. After all, this is the country that invented the concept of Gross National Happiness (GNH), that economic prosperity without maintaining environmental or cultural values is not a good indicator of a country's growth."
Stunning Dzongs keep careful watch over fertile valleys, matched by the colour and simplicity of prayer Wheels, http://youtu.be/7wOjhhZ5SVI, whilst there is a rich heritage of religious, textile, and also folk traditions, http://youtu.be/XhtxdEBtBxE. Cycling races, running events, and trekking adds adventure to Bhutan's glorious traditions and opportunities for visitors.
Discerning Journeys are experts in Bhutan, and able to create your ultimate Bhutan experience.
Explore Discerning Journeys further on Facebook: http://www.facebook.com/discerningjourneys .
To create your own journey, or for further information please Email: arjun(at)discerningjourneys(dot)com