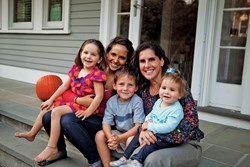 I encourage families to use the DISC as a tool. There are no right or wrong answers. If you have the knowledge on how someone best functions, you can use this to your advantage.
Cambridge, MA (PRWEB) January 31, 2014
Choosing a childcare provider is an important decision, so it only makes sense for families to consider all aspects of a provider's application before making a choice. One information tool now available to families considering an au pair is a DISC assessment.
Cultural Care Au Pair requires all au pairs to take the DISC assessment—a test that measures personality traits and identifies how someone is likely to react in certain situations. DISC is an acronym for drive, influence, steadiness and compliance.
•The "Drive" scale measures how assertive someone is.
•The "Influence" scale relates to social situations and communication.
•The "Steadiness" scale measures an au pair's demeanor and how well she deals with change.
•The "Compliance" scale measures how much structure and organization someone is comfortable with.
"I encourage families to use the DISC as a tool. There are no right or wrong answers. If you have the knowledge on how someone best functions, you can use this to your advantage," says Sasha Williams, a Cultural Care placement manager. "When looking at an au pair's DISC assessment it's most important for parents to consider how the results will affect three big areas: communication style, structure and leadership, and independence vs. time spent with the family."
Communication style
Communication is the single most important component to a successful child care provider relationship, so it's wise to look at an au pair's influence score to get a sense of preferred style. A family Williams was recently working with in Washington said that, at the end of each day, the au pair would withdraw to her room and then head out with friends. The mother would have preferred her au pair to stay and chat for a few minutes about the day. Lisa Sousa, a host mother in Massachusetts, also found that one of her au pairs was more socially withdrawn and didn't fit in as well with her family dynamic. In both cases, their au pairs had lower "I" scores. The mother in Washington has recently selected her next au pair and specifically chose a candidate with a high "I" or influence score. The au pair's DISC reports indicates: "You are interested in meeting and being with people. Social skills are unlikely to be a problem for you." Sousa also just matched with an au pair with a higher influence score.
Structure and leadership
Williams recommends parents consider a candidate's DISC score in relation to how they answer these questions. Do the parents:
1. Set an agenda on a weekly basis and make consistent use of a communication Log?
2. Expect the au pair to devise and plan the kids' activities?
3. Feel content just as long as the kids are having fun and feeling loved?
"Under the steadiness score, you might see a line like 'Individual gets restless when involved in routine and repetitive work/activities.' Families with school-aged kids may worry about how a candidate copes with the daily grind of school, sports, homework, and meal preparation without a lot of variety."
Other families want to see their childcare provider empowered, and this is especially true with children under four. One common request from families is for a candidate that has common sense—one that knows how to step in, take charge. Williams says, "Results such as 'Individual is willing to take an unconventional approach' in the compliance assessment or 'Individual is goal-oriented and thrives on competition' in the dominance assessment are appropriate for families with a lot of moving parts and a need for organization. On the flipside, a family that is very relaxed and takes a go-with-flow approach might frustrate an au pair with these characteristics."
Independence and spending time with the family
While some families want their au pair to spend time off with them, others prefer that their au pairs make their own plans with friends, travel and get out and about. Says Williams, "Under 'Influence', one might find a candidate 'is comfortable working alone' or in 'Compliance', 'willing to try the untried.' This person might be more independent." If this is the case, it's also important to be mindful of what opportunities the au pair will have to socialize. Will she have use of the car? Is there public transportation nearby? How many other au pairs are in the area?
Williams shares, "Host families that don't mind more of a homebody and want someone who really becomes part of the family might look at the 'D' score for comments like 'Individual is easy-going and congenial' and 'Individual tends to be reactive rather than pro-active.' " She adds, "I work with two families in Maryland that look for comments like these because both of them love essentially having an older niece that will spend time with them as a family, going to the movies, yoga, etc."
In selecting a childcare provider, it's best to consider the DISC results in combination with all of the other important elements of a candidate's application: childcare experience, jobs held outside childcare, schooling and career goals, relationships with family and friends. If all seems elements seem in tune with the family's dynamic, a parent can be even more confident an au pair is the right fit for the family.
# # #
About Cultural Care Au Pair
Cultural Care Au Pair is the leading provider of intercultural, live-in childcare in the United States. Since 1989, Cultural Care Au Pair has placed more than 90,000 au pairs in welcoming American homes. A U.S. Department of State regulated program, Cultural Care Au Pair is headquartered in Cambridge, MA, with their own extensive network of recruitment, screening and orientation offices worldwide and more than 600 local coordinators across the U.S. For more information about hosting an au pair, visit http://www.culturalcare.com or call 800-333-6056.