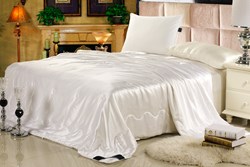 Our comforter sets will make you feel like a king or queen at your extremely cozy bedroom.
(PRWEB) September 25, 2013
Reputed as a leading online store in the silk bedding industry, Lilysilk has recently released its luxurious collection of silk comforter sets, including silk duvet covers and silk comforters. Excitedly, they announce a great discount on these pure silk comforter sets today, up to 50% off.
Lilysilk comforters are delicately filled with 100% pure silk floss, and their matching duvet covers are hand crafted from 19 momme mulberry silk. The washable duvet covers are used to prolong life span of silk comforters. Lilysilk specializes in designing and manufacturing glamorous silk bedding, and is always offering high quality products at affordable prices. On its website, a summer silk duvet with a white duvet cover in full size only sells $299. Almost all products on their sale page are offered at greatly discounted prices, 50% off.
"In fact, we do not have many silk comforter covers in stock, and our comforters are made only after you place order. Make sure you don't miss out as stocks will not last forever!" says Mike Lee. "Our comforter sets will make you feel like a king or queen at your extremely cozy bedroom. "
In addition, Lilysilk is offering similar big discounts on its top quality silk coverlet set, including silk coverlet, silk pillow sham and silk cushion cover. Lilysilk is a place where can buy high end silk products at affordable prices.
About Lilysilk
Lilysilk is a China-based online store which offers a wide range of silk bedding set, including silk duvet cover, fitted sheet, flat sheet and pillowcase, as well as the related accessories. Excellent customer service, high quality, free delivery and competitive prices are big features of Lilysilk.
More information about silk comforter set sale can be accessed at: http://www.lilysilk.com/.