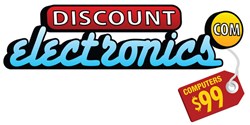 It's not what we do that got us here. It's how we do it.
Austin, TX (PRWEB) August 21, 2013
Austin's Discount Electronics sets a record for the number of consecutive years any Texas retail business has ever been named to the Inc 500/5000 list of Fastest Growing Companies in America. Discount Electronics has been found on Inc 5000 every single year since 2007.
Discount Electronics is an Austin, Texas based computer retailer with 8 locations in Central Texas. The company, best known for its $99 PC with a one year warranty, has differentiated itself from the competition by offering extremely low prices and long warranties on refurbished Dell computers and laptops. The revenue is split between brick and mortar stores and an impressive website that allows users to custom configure a used laptop or computer at a fraction of what the cost of a new Dell would be. DiscountElectronics.com has an extensive inventory of OEM Dell and Apple parts online, and every one of the retail locations has a computer repair shop that will fix everything from laptops to cellphones.
"It's not what we do that got us here. It's how we do it," says CEO Rick Culleton. "Discount Electronics puts customer service and the experience before, during and after the sale above everything else. It is what successful businesses were built on 50 years ago and what they will be built on 50 years from now, regardless of how technology changes commerce."
The benefits of Discount Electronics explosive growth can be felt throughout Austin and Central Texas. In 2012 the company paid $3,415,333 in wages, $103,299 in property taxes, and over a million dollars in sales tax to the State of Texas.
Discount Electronics opened its first retail store in 1997 on North Lamar Blvd. Then the company had just four employees, including Founder and CEO Rick Culleton. The first store changed locations three times over 9 years before settling at its current spot on West Anderson Lane in 2006. Discount Electronics had just one store for the first 12 years of its life but grew from the recession of 2008 to have 4 stores by the end of 2009. In 2011 Culleton acquired PC Outlet of San Antonio, a company he had founded and later sold, adding 3 more stores to the brand. In 2012 Discount Electronics opened in Cedar Park for the second time, the first being a failed experiment in Lakeline Mall. Earlier this year Discount Electronics opened yet another location in San Antonio.