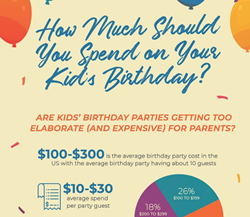 JACKSON, Mich. (PRWEB) July 28, 2019
How much should a kid's birthday party cost? Leading online retailer of party supplies Discount Party Supplies has published a detailed infographic, How Much Should You Spend on Your Kid's Birthday?, to answer this question, which has boggled many parents' minds.
In the recent years, children's birthday parties seem to have grown too elaborate and too expensive for many parents. Social media has fostered a sense of competition and comparison among parents and has consistently set the standards higher and higher.
Birthday parties consist of some of the fondest childhood memories a person can have. They don't necessarily need to cost a lot to be memorable and fun, says Discount Party Supplies. The average birthday party with 10 guests only costs $100 to $300.
The company has made it its goal to make it as effortless as possible for busy and hardworking parents "to host fantastic parties that are fun, easy, and affordable" for their children. It is for that reason that the infographic was created.
Check out this budget guide to know more about party necessities, from the invitation and party favors to the food and venues. Read up on insights into helping parents save money and stick to their planned budget as well.
About Discount Party Supplies
Discount Party Supplies is a leading online retailer of all things party related. Their mission is to help parents and others throw the best parties for their children, friends, and loved ones without breaking the bank. Discount Party Supplies offers a wide selection of invitation cards, decorations, utensils, party favors, and exclusive themed supplies at affordable prices and fast delivery.
Browse their products on their website, and follow them on Facebook, Pinterest, and YouTube for more awesome party ideas and helpful guides.