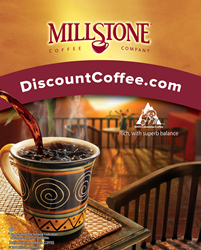 If customers are looking to buy the last of the Millstone Coffee, they'll find it at DiscountCoffee.com.
St. Louis, Missouri (PRWEB) August 23, 2016
The J. M. Smucker Company, the roaster of Millstone Coffee, recently announced the discontinuation of the Millstone brand, along with all flavors and blends, which includes 100% Colombian, Decaffeinated Colombian, Breakfast Blend, Foglifter, Caffe Midnight, and Hazelnut Cream. DiscountCoffee.com, the internet's low price leader for coffee, beverages and office break room supplies, has acquired the remaining stock of Millstone Coffee and is now the exclusive internet retailer of this popular, and now discontinued, ground coffee.
"Millstone Coffee varieties have always been a popular choice for our customers," said Kirby Newbury, CEO of DiscountCoffee.com. "Due to our relationships with warehouses and brokers across the country, we've been able to acquire the remaining Millstone product. If customers are looking to buy the last of the Millstone Coffee, they'll find it at DiscountCoffee.com. It's part of our company's commitment to being the first and last source for coffee and office break room refreshments."
Newbury expects that Millstone's Foglifter and Hazelnut Cream flavors will be the first to sell out. This is based on sales trends and current remaining inventories. He points out, however, that many popular coffee brands will serve as a great alternative to Millstone. These include Starbucks, Seattle's Best, Folgers, Maxwell House, Hills Bros, Yuban, Cafe Bustelo, Wawa, and more. DiscountCoffee.com offers these coffee brands in a variety of flavors and sizes, all at the lowest prices on the internet.
"We've already talked with many of our customers who have heard the news of Millstone's discontinuation," said Cherri Newbury, President of DiscountCoffee.com. "As they contact us to place their orders, they're also asking what might be the best replacement for their favorite Millstone coffee when the time comes. We're helping them identify what their next break room coffee will be when supplies of Millstone run out."
In addition to being the last source for discontinued and seasonal products, DiscountCoffee.com is also a first source for the newest coffee, refreshments, and break room supplies. Refreshments include Crystal Light Drink Mix, Swiss Miss, and Nestle Hot Cocoa, as well as Bigelow, Lipton, Nestea, and Tazo teas. Other products such as Coffee-mate creamers, sweeteners, Lipton Cup-a-Soup snacks, Dart Cups, plates, bowls, and plastic utensils are also available.
About DiscountCoffee.com
DiscountCoffee.com was established in 1998 as a money saving alternative to traditional office coffee services, thus creating the (ICS) Internet Coffee Service industry. Today, the company maintains the commitment to providing high quality coffee, drink mixes, and over 1000 break room supplies at up to 60% savings. DiscountCoffee.com educates businesses and consumers about "hidden charges" associated with free equipment and contract-based invoicing, and empowers them to take charge of their coffee buying through the website's easy-to-use, secure online ordering. The company ships most products nationwide, offers low price guarantees, free shipping, and no minimum order requirements. For more information, please visit DiscountCoffee.com