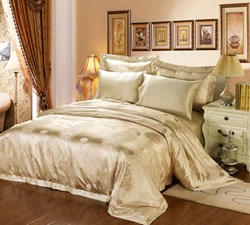 We never sacrifice efficiency or quality for styles and competitive prices.
Seattle, WA (PRWEB) January 12, 2014
As a renowned silk bedding store, Lilysilk.com has recently updated its category of silk bed sheet sets, and added several new styles into the bedding collection. The company has announced its first promotion in January 2014. All its 22 momme and 25 momme silk bedding sets are available at greatly discounted prices, 20% off.
New styles of 22MM silk bedding sets, respectively named Alina, Blossom, and Rosabella, come with surprisingly huge price cuts. They are delicately designed, luxurious and comfortable. The superior quality mulberry silk fabrics allow them to be extremely smooth and soft, and to be necessary accessories of warm and healthy bedrooms. Embroidered flower patterns on the surfaces of duvet covers and oxford pillowcases are adding much artistic flair to luxurious bedrooms.
"Silk bedding sets can be used all year round. You should know or hear from that silk goods are warm in winter and cool in summer. Actually they are. 100% pure and natural silk provides you different touch and experience. We never sacrifice efficiency or quality for styles and competitive prices." says Mike Lee, CEO of Lilysilk. "I bet that our three new styles of 22mm bed sheet sets become popular among customers soon. Because they are really luxurious and beautiful."
Lilysilk.com has seen a strong success in its bed accessories which are carefully crafted from 100% pure silk. The company also offers excellent customer services, such as instant email replies within 12 hours, live help. Besides, customers can return goods with no hassle only if they are not washed or used and in their original package.
Lilysilk bedding store specializes in bedding wares and offers premium quality silk sheets, comforters and duvets, pillows and blankets, mattress toppers, etc at competitive prices. Their sheets are in line with their mission which states, "tired in, vigorous out". Much more information and promotions can be found at: http://www.lilysilk.com/