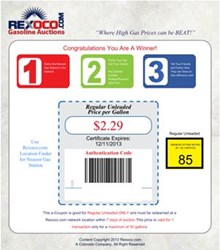 One man thanked me and shared that the savings on gasoline allowed him to buy new shoes for his children.
Denver, CO (PRWEB) December 05, 2013
On Tuesday, December 10th, Rexoco.com will be providing customers with an opportunity to "Pay it Forward". Between the hours of Noon to 1:00 PM and 7:30 -9:30 PM Mountain Time, winners of discount gas price auctions will receive not one, but two discount e-Coupons.
Rexoco.com will provide each winner during the promotional period with a second winning e-Coupon, and is asking winners to share the additional discount gas coupon. "We hope our customers feel as good about delivering the discount gas price, as we have felt from the stories they have shared with us," said Paul James Founder of Rexoco.com. Rexoco.com invites winners to share their e-Coupon with a friend, family member, their favorite charity who transports goods or services during the holidays, or the person behind them filling up their tank at full price.
"We continually hear from grateful Rexoco.com customers how the savings on their monthly gasoline bill has helped," said James. He went on to mention that "One man thanked me and shared that the savings on gas allowed him to buy new shoes for his children." Providing exceptional savings on gasoline is what Rexoco.com is designed to do. "Our users understand the value of the program and we would like for them to 'pay it forward' on us this holiday season," said James.
The average Rexoco.com winning e-Coupon has a value of approximately $20, and can go all the way up to $90 in savings. The e-Coupon is good for up to 7 days, and can be redeemed at over 20 Conoco and Shell locations throughout the Denver metro area.
Rexoco.com is changing the way Colorado drivers buy gasoline. The program launched in May of 2012, and is quickly becoming the online destination for discount gasoline prices. Rexoco.com is the first gasoline auction in the country where drivers bid online for extremely low gas prices. The website combines the excitement of online retail shopping in a fun, competitive and engaging environment while providing an exceptional value on a product that has never been purchased using the internet.
To try Rexoco.com simply register, and with a confirmed email address you will receive three FREE bids to place on any auction. Then be the last bidder when the timer runs out, and you WIN! The winning bidder will receive an electronic coupon to their email inbox just minutes after auction close and the discount gas price may be redeemed at over 20 participating gas stations in our network.
Background
Rexoco Stores, Ltd, a Colorado Corporation was founded in 1991. Over the years, Rexoco has operated convenience stores along the Front Range of Colorado including, Denver, Greeley, Ft. Collins, Lyons, Downieville, and Silverthorne. Each of these locations features Conoco Branded gasoline and is considered the best in class for gasoline retail in the industry. With the creation of this new online auction marketplace they are quickly building a new brand loyalty following.
For more information contact us at http://www.rexoco.com.
Dina Clifford
Marketing Manager
303-549-3164
Dina(at)rexoco(dot)com