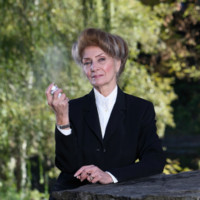 GRANTS PASS, Ore. (PRWEB) February 21, 2019
Date aired: February 18th, 2019
Guest: Kevin Daisey, Founder & CMO, Array Digital, Virginia & Florida
Just as Sharon Kleyne, founder and research director of Bio Logic Aqua® Research Water Life Science®, was the first to invent the new Dry Eye Solution® technology known as Nature's Tears® EyeMist®, the Water Life Science® advocate is also among the first to research and recognize the importance to communication, digital marketing and IP value of algorithm.
As Water Life Science® mentor Kleyne teaches, algorithm is the new technology orbit of our world. Without constant attention to algorithm, companies big and small will not survive. "Algorithm helps us to understand the life force of water," instructs Water Life Science® provocateur Kleyne. "Algorithm helps us understand how earth was once surrounded by a blue ribbon of water. That water came to earth as a mist and sparked the breath of life—water." Water Life Science® supporter Kleyne also says that algorithm helps us to learn that "moisture is not a cream! Cream slows down water evaporation but does not supplement the body water that has been lost. Only pure fresh water does that," says Kleyne.
Award-winning digital marketer, entrepreneur, speaker and founder and CMO of Array Digital in Virginia and Florida, Kevin Daisey, agrees with Kleyne about what she is calling "the new orbit of digital marketing" that depends on algorithm. "Algorithm," says Daisey, "harnesses technology so that we can understand how users are buying, what they're thinking and what their habits are." Daisey explains that digital marketing includes collecting, documenting and tracking all data on customers and products. This will change everything. Daisey offers one example. "By 2020," Daisey says, "25% of customer service will be chat boxes. Jobs will be cut and talking to a real person will be a thing of the past."
Algorithm is also driving the rapid development of artificial intelligence and augmented intelligence. More and more, people will be told what to think, what to feel and what to buy. "Artificial intelligence is always getting smarter, faster and bigger," says Daisey. Artificial intelligence organizes search patterns (such as at Google's AI Platform), connections and interests of customer bases. Augmented reality driven by algorithm allows advertisers to offer the exact thing for the exact person who is looking for it. "Messaging will be crafted uniquely for you and only you," says Daisey.
Water Life Science® researcher Kleyne believes that America has fallen behind in the study and use of algorithm. "The rest of the world loves to study algorithm," says Power of Water® leader Kleyne. "We have to catch up! Algorithm will give us what we need."
*
If you would like to listen to the talk radio program featuring the conversation between Kevin Daisey, Founder & CMO of Array Digital and proactive new technology Power of Water® talk radio host and Water Life Science® educator Sharon Kleyne about the algorithm orbit of the universe and our daily lives, follow this link: https://www.voiceamerica.com/episode/113346/digital-marketing-trends-and-new-emerging-technologies