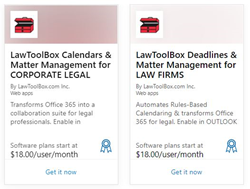 We are excited to be among the first Microsoft 365 Apps making it easier for IT professionals to deploy apps like LawToolBox with integrations for Outlook, for Microsoft Teams, for a browser, or for all three with a single click from the Microsoft 365 Admin Center
DENVER (PRWEB) March 02, 2020
LawToolBox announces that beginning today - as Microsoft rolls out a new class of apps called Microsoft 365 Apps - IT professionals are able to discover, purchase, test, deploy and manage LawToolBox inside their own Microsoft 365 Admin Center. This means that IT professionals will be able to purchase and manage LawToolBox in the same secure admin center they manage Microsoft services.
"We are excited to be among the first Microsoft 365 Apps making it easier for IT professionals to deploy apps like LawToolBox with integrations for Outlook, for Microsoft Teams, for a browser, or for all three, with a single click from the Microsoft 365 Admin Center," says Jack Grow, CEO of LawToolBox. Further, Microsoft 365 apps fast track procurement by adding LawToolBox to the Microsoft monthly invoice while increasing trust with clients by layering LawToolBox security self-attestation alongside Microsoft's security and privacy certifications.
Within the legal market, the LawToolBox focus on deadline management differentiates it from other legal products. LawToolBox has a robust deadline management system to automate deadline calculations based on court rules, administrative proceedings and custom deadline templates that if not handled properly are at the root of almost 40% of all malpractice claims against legal professionals. The LawToolBox SaaS offers for Microsoft Teams or Outlook turn Microsoft 365 into a powerful solution for legal that allows law firms and legal departments to better leverage Microsoft products they are already paying for. These integrations deliver a seamless cross-platform experience that creates matters and transforms Microsoft 365 into a collaboration suite for legal professionals to manage their deadlines, documents, notes, contacts, emails and calendars.
What New Things can IT Pros do with the LawToolBox Microsoft 365 App? Today IT professionals can discover LawToolBox for Outlook or Teams in AppSource with the option to also purchase directly, through their Microsoft Partner, or through their Microsoft Account Executive. With the launch of the LawToolBox Microsoft 365 App, IT professionals will also be able to manage the process end-to-end from within the Microsoft Admin Center.
If a firm wants to deploy all LawToolBox integrations simultaneously, they now have the tools to do so. However, if a firm isn't ready for Teams yet, an IT Pro can initially deploy just the LawToolBox Outlook add-in, and later deploy for Teams when the timing is right. With this new method, LawToolBox is riding the cutting edge of Microsoft's journey to open their channel to modern 3rd party apps as part of a seamless user experience.
To help IT professionals make better informed decisions about deploying integrations into their organization and to further streamline the buying process, LawToolBox has included publisher-attested compliance information in the AppSource app catalog with information across over 40 different standards, extended with information from Microsoft Cloud App Security, is now one click away from the AppSource catalog entry for applications. Prospective buyers won't have to open a new purchase agreement to approve LawToolBox or go through an exhaustive RFQ process on security and pricing. Instead, LawToolBox uses the publisher-attestation tools provided by Microsoft to inform the buyer and streamline the process for legal professionals to discover, buy, test, deploy and manage LawToolBox through its integration inside Office 365.
LawToolBox launched its first add-ins in the Microsoft store in 2013, and it has received awards for its Outlook add-in, Team app, and its SharePoint Integrations. Here are a few of the highlights:

2020 March – Among the first Microsoft 365 Apps sold inside Microsoft 365 Admin Center
2020 February – LawToolBox announces a mobile-friendly app for end-users
2020 February -LawToolBox iFrame integration opens the door for a new class of integration partners
2019 July – Among the first transactable SaaS Offers sold thru Microsoft Commercial Marketplace
2018 September - LawToolBox Teams App wins 2nd Place, Best Office Integration
2018 August - LawToolBox Teams App wins Best SharePoint Solution
2018 July - LawToolBox launches matter management for Microsoft Teams and Outlook
2017 February - LawToolBox launches matter-based deadlines for Office 365 with groups
2016 September - LawToolBox Outlook add-in wins Most Business Value for Office Add-in
2015 September - LawToolBox launches SharePoint app for court deadlines in Matter Center
2014 April - LawToolBox exhibits with Microsoft at ABA TECHSHOW
2014 February - LawToolBox exhibits with Microsoft at LegalTech New York
2013 September - Launches one of first couple dozen apps and first legal app in Microsoft Store
LawToolBox was among the first SaaS offers available in the Microsoft Commercial Marketplace to be sold directly by Microsoft in 2019. This initiative enabled distribution of LawToolBox by Microsoft directly to end-users, and through Microsoft's 60k+ partners, and though the 20k+ internal Microsoft field sellers. With the release of Microsoft 365 Apps, IT professionals now have a new method acquire and buy LawToolBox. 10-Minute video.