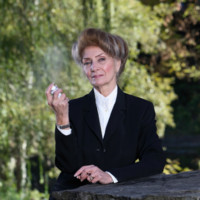 GRANTS PASS, Ore. (PRWEB) February 27, 2019
Between the two of them, Sharon Kleyne, founder and research director of Bio Logic Aqua® Research Water Life Science®, and Dr. Michelle Lau, president of the Council of Acupuncture and Oriental Medicine, have studied Traditional Chinese Medicine for more than 40 years. Kleyne has also studied body water evaporation and has become the world's foremost expert on dry eye caused by evaporation.
Kleyne and Lau, appearing together on Kleyne's talk radio program, the internationally syndicated weekly The Sharon Kleyne Hour Water Life Science®/Nature's Pharma®, The Power of Water® & Your Health sponsored by Nature's Tears® EyeMist® on VoiceAmerica produced by Rose Hong, founder/director of Global Dragon TV in Washington, D.C., agree that water must be central to any proactive health plan. If you are a scientist, researcher, physician, water entrepreneur or climatologist and would like to appear on the show, contact Rose Hong at
globaldragontv@gmail.com
"Water is the best medicine for the human being," asserts Lau. Kleyne has always known this.
"Evaporation had been left out of research," says Kleyne, "until I was able to show that dry eye was a result of evaporation. Then I developed a product, Nature's Tears® EyeMist®, a Dry Eye Solution® unlike anything else in the global dry eye market."
Lau and Kleyne also agree on the urgent need for reform in health education. People need to learn how to care for their bodies. They need to live in a clean environment and drink lots of pure water. Children must learn about care of the body beginning at an early age. For instance, Lau teaches that one should avoid drinking cold water during menstruation because the body needs to be kept warm. Kleyne adds that ice water is not easily absorbed by the body.
Kleyne and Lau are also concerned about addiction in the U.S. and around the world. Lau points out that 60,000 people in the U.S. died last year from an overdose of pain medication. Traditional Chinese medicine teaches that there are many channels in the body related to the different organs. Engaging in proactive health means following your body channels. In Chinese medicine, a pain indicates a blockage. Acupuncture is a safer, more effective way of dealing with that blockage than masking the pain with an opiate derivative.
Kleyne and Lau also agree and are active in persuading insurance companies to reward patients who demonstrate proactive health care by paying for Traditional Chinese Medicine procedures. Digital marketing will make it easier for patients to learn more about their own bodies and health, thus leading to a healthier, safer and saner world.
Lau is organizing a world forum on Traditional Chinese Medicine and Acupuncture in Washington, D.C. this March, inviting top practitioners from around the world, insurance executives and lawmakers. "Together," proclaims Lau, "we can change the world!"
Date aired: February 25th, 2019
Guest: Dr. Michelle Lau, President, American Alliance of Acupuncture, Sacramento, CA
If you would like to listen to the talk radio program featuring the conversation between Dr. Michelle Lau, President of the Council of Acupuncture and Oriental Medicine Associations and proactive new technology Power of Water® talk radio host and Water Life Science® educator Sharon Kleyne about body water evaporation, water and health education, dry eye caused by evaporation and Traditional Chinese Medicine and its role in U.S. health and our daily lives, follow this link: https://www.voiceamerica.com/episode/113484/traditional-chinese-medicine-its-impact-on-american-health