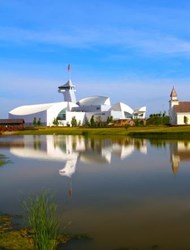 Discovery Park is to entertain and delight our guests while providing information about history, science, art and the area in which we live.
Union City, TN (PRWEB) November 01, 2013
Discovery Park of America Union City, Tenn, a multi-million dollar new tourist and educational attraction, is now open in Union City, Tennessee.
Discovery Park of America was founded by local residents Robert and Jenny Kirkland. The attraction is expected to be a major boost for the local economy and tourism by providing an attraction that has been described as "Smithsonian-like" and offering experiences normally found in large metropolitan cities.
The reason that Discovery Park of America is sitting in the middle of a corn field in Union City, Tenn. is because of the vision of these native Obion Countians. "We have been blessed, and see it as a mission to bring this exceptional educational experience to this area. But learning should never be boring, so one of the goals of Discovery Park is to entertain and delight our guests while providing information about history, science, art and the area in which we live," Kirkland explained. "Our tag line, 'See Beyond' pretty much sums it up. We want people to see beyond their current level of knowledge and to have the opportunity to see and experience things at Discovery Park that they might otherwise not have."
The $100 million dollar project features the 120-foot look-out tower, providing a 360 degree view of this rural farmland, a Starship Theater where guests will 'blast off' into outer space to experience a realistic space voyage experience and much more.
The 50-acre complex boasts an entertaining 'grounds-and-garden' experience, as well as an iconic 100,000 square-foot Discovery Center featuring ten learning galleries. Freedom Square, The Chapel, The Depot, The Settlement, The Barn and Mill Ridge, four gardens, a shrub lined maze and the grand pavilion sprinkle the Discovery Park grounds.
Inside Discovery Center, the giant human slide and the earthquake simulator encourage active learning as well. American history and technology exhibits are also displayed, capturing the country's historical past through interactive and technological visions.
The architect of the project was Lou Sirianni of Verner Johnson, Inc. out of Boston, Mass. The graphics and design of the galleries was the inspiration of Thinc Design out of New York and the display builder is Maltbie out of New Jersey.
For more information, visit http://www.discoveryparkofamerica.com.
Don't miss your chance at a free Tennessee vacation. Enter Tennessee's 2013 Fall Sweepstakes "Seeing Stars and Living Large." The winner will win a spectacular trip to Nashville, including a two-night stay at the five-star Hermitage Hotel, a VIP tour and much more. Enter to win at http://www.fall.tnvacation.com. The sweepstakes runs until 1 p.m. Monday, Nov. 11 CST. Explore more at tnvacation.com and join other Tennessee travelers by following "TNVacation" on Facebook, Twitter, Pinterest, Instagram and YouTube.